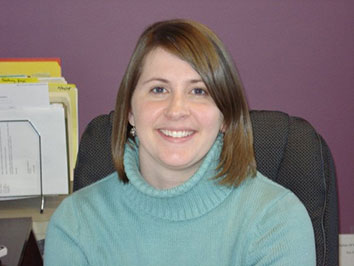 Elizabeth Matthews is the new International Student Adviser and Immigration Specialist in Ferris State University's Office of International Education.
Matthews comes to Ferris from the Illinois Institute of Technology where she served as its International Center director. She also previously worked at Northwestern University, in Illinois, as associate director of International Education. Matthews spent five years at NU, overseeing an international student population of 2,000 students.
Students from other cultures have intrigued Matthews since she was an undergraduate student at Michigan State University and was a conversation partner with a student from China.
"I enjoy meeting new people and learning about other cultures," Matthews said. "After studying in Ireland during my undergrad, spending a semester in Nepal and visiting Rome, I decided to prepare for a career in international education."
Matthews, who earned a master's degree in Higher Education from Loyola University in Chicago, said that she is excited to help provide global engagement for the campus and community.
"We have about 340 international students, so I'm excited to really have an opportunity to get to know them. Being able to touch all the areas of a student's academic and educational experience is a very holistic professional endeavor," she said. "I can't think of a more rewarding position to be in than advising international students and encouraging students to explore the world through Study Abroad."
Matthews also oversees immigration regulations to aid international students interested in pursuing their education in the United States, as well as the university's Study Abroad program. She will be encouraging students to travel the world and assist them with financial and academic issues.
"International students are incredibly special – they're a resource for the campus and they add diversity in the classroom as they bring new ideas about the world and their professions," she said. "This provides an opportunity for our students, faculty and staff."