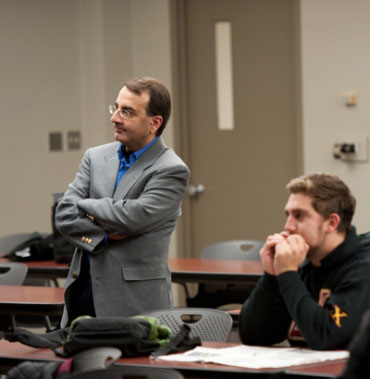 Students and others with ideas to unleash can participate in Global Entrepreneurship Week at Ferris State University beginning Monday, Nov. 5.
The university's Entrepreneurship Institute will celebrate the international event with activities in Big Rapids and Grand Rapids.
"Now, with technology, one doesn't have to be backed up by a big company with a lot of money to become an entrepreneur," said Shirish Grover, EI coordinator and assistant professor in the College of Business. "This week will allow people from around the world to engage in entrepreneurship."
GEW events are designed to inspire people to "discover their inner entrepreneur" and consider their self-starter potential and entrepreneurial opportunities. Events are planned on the university's Big Rapids campus and in Grand Rapids.
Here's a look at the schedule of events:
"Local to Global," 5:30 to 7:30 p.m. Monday, Nov. 5, YWCA, 25 Sheldon Blvd. SE, Grand Rapids
Co-owners of Brittanie's Thyme will discuss how their business transitioned from local sales to global exports. EI is partnering on the event with Grand Rapids Opportunities for Women (GROW), an organization dedicated to providing resources, financing and training for women.
"Future Innovators," 9 a.m. to 3 p.m. Tuesday, Nov. 6, FLITE 114, Ferris campus
Crossroads Charter Academy students will visit Ferris for the day to compete in an interactive business startup simulation developed by Disney. The event is being held in partnership with Generation E Institute and Crossroads in Big Rapids.
"Challenges and Opportunities for Latino Entrepreneurs," 5:30 to 8:30 p.m. Wednesday, Nov. 7, IRC 120, Ferris campus
Carlos Sanchez, director of the West Michigan Hispanic Chamber of Commerce, will moderate a panel discussion on "Challenges and Opportunities for Latino Entrepreneurs." The event is in partnership with Ferris' Center for Latino Studies.
"The Latino population is the source of the largest amount of growth in entrepreneurship," Grover said. "Our goal for this session is to highlight the Latino population in entrepreneurship while also discussing the challenges they face in order to gain better access into the Latino market."
"Inspire. Design. Do.," 2 to 7 p.m. Thursday, Nov. 8, Ferris' Kendall College of Art and Design (Federal Building), 17 Fountain St. NW, Grand Rapids
This creativity workshop will showcase the link between design and entrepreneurship.
"Some people who may be architects or designers or industrial engineers may want to go into business for themselves," Grover said. "This is a great workshop to show people how design and entrepreneurship go together. Entrepreneurs from Grand Rapids' Start Garden will be present to share stories. At the end of the day will be an opportunity to network with these professionals, so this is a great way for current students to help their careers."
Start Garden is a $15 million venture capital fund created by Grand Rapids entrepreneur Rick DeVos, who also created ArtPrize.