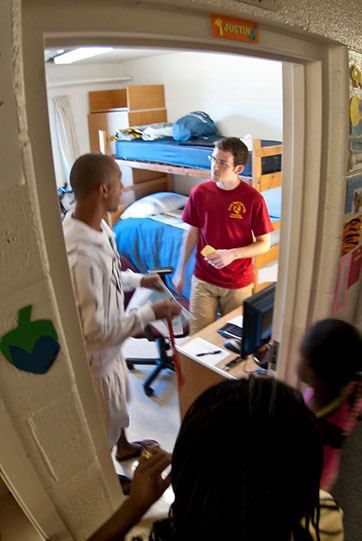 Ferris State University's Office of Housing and Residence Life has donated unused furniture items from an unoccupied residence hall to the Pine Ridge Indian Reservation in South Dakota.
"Donations are one of the great things that Ferris can do to help others in need when the opportunity presents itself," said Diane Johnson, assistant director of Housing. "Over the years, we have donated close to 1,000 mattresses."
Unused furniture from Masselink Hall, which is no longer used as a residence hall, was sent 1,100 miles for use by children who do not have a bed or other furniture in South Dakota.
The donation of 54 beds, 20 dressers, 48 mattresses and four wardrobes was loaded into a moving truck in late October with assistance from athletic camps coordinator Gary Wendlowsky, head football coach Tony Annese, assistant football coach Brad Corpe and Bulldog football team members.
The dismantling of Masselink Hall is underway and the facility is expected to be torn down in the spring of 2013 as part of the new University Center renovation project.
The Pine Ridge Indian Reservation is home to 20,000 to 40,000 residents. It is located on the southwest side of South Dakota in one of country's poorest areas.