D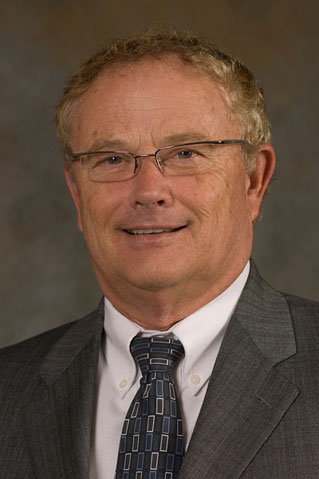 aniel Burcham, vice president for Student Affairs at Ferris State University, has announced his retirement effective March 31, 2013. Burcham has served Ferris for more than 40 years in a range of positions, including Developmental Education department head, associate dean of the College of Arts, Sciences and Education, dean of Enrollment Services and acting provost. He is married to Carma Burcham, who also served the university for many years before her retirement from her position as coordinator of records and NCAA eligibility.
"Over his more than 40 years at Ferris, starting as a faculty member, Dan Burcham has served the university in an extraordinary way at every step of his career," said Ferris President David Eisler. "His legacy is one of great dedication to generations of Ferris students, whose interests he has always taken to heart."
Burcham holds a Ph.D. in Curriculum and Instruction from Michigan State University, and began at Ferris as a professor of English in 1969, achieving tenure. As an administrator he has been deeply involved in such areas of academic life and development as student retention and social norming. Over the past several years, Burcham has helped spearhead initiatives at Ferris that have resulted in the university's support for degrees in critical skills areas, increased graduation rates and total degrees conferred. The increased state support Ferris received this year under Michigan's new performance-based funding model came as a result of these and other performance measures.
"These have been wonderful years at Ferris, and I appreciate all of the friendships I have formed over the past 43 years," Burcham said. "Carma and I were blessed to work at a university that shared and espoused our values. Big Rapids became our home and Ferris became our family."
Burcham has written and presented extensively on student development and enrollment management, including co-authoring a chapter in the American Association of Collegiate Registrars and Admissions Officers' book, Basic Guide to Enrollment Management. His other notable work was often grant-generated such as "Farming with Nature" sponsored by the Michigan Council for the Humanities and "Support Services for Women" supported by the Michigan Department of Social Services. His present interests include student debt reduction and out-of-class learning. Additionally, he teaches courses in Ferris' Community College Leadership doctoral program.
Upon Burcham's retirement, Don Flickinger will serve as interim vice president for Student Affairs. Flickinger, who most recently served as associate vice president for Academic Affairs, returns from retirement to provide continuity of service for Ferris students while the university undergoes a search for a permanent vice president.