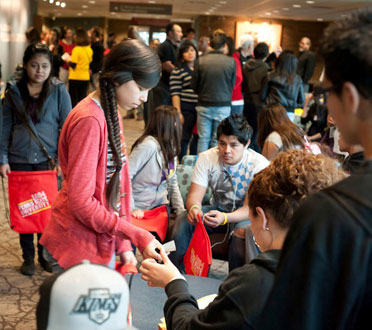 Ferris State University has created a Center for Latino Studies, provost and vice president for Academic Affairs Fritz Erickson announced.
Ferris faculty, staff, students and administrators have worked with leaders across Michigan during the past several months to identify a way for the university to provide its students with educational, social engagement and leadership-development opportunities within the growing and vibrant Latino community. These meetings culminated in the idea of the Center for Latino Studies.
Embracing and embodying Ferris' core values, the Center for Latino Studies will support collaboration, diversity, ethical community, excellence and learning. It also will provide meaningful opportunities for cultural interaction as diverse Latino and Latin American cultural heritages and traditions are explored, celebrated and engaged by Ferris and local communities.
"The Center for Latino Studies is a major step in the university's journey to become a truly diverse and inclusive institution," said David Pilgrim, vice president for Diversity and Inclusion. "I applaud Provost Erickson for his leadership with this initiative."
The Center for Latino Studies will begin offering programs in the fall. Social Sciences professor Tony Baker initially will serve as the center's founding executive director until a permanent executive director is hired.
"I am excited that the Center for Latino Studies will expand the university's relationships to the broader community," Baker said.
Baker will work to solidify educational and community partnerships along with a team of advisory board members, including:

Carlos Sanchez, Executive Director, West Michigan Chamber of Commerce

Jose Reyna, Fiscal Services Manager, City of Grand Rapids

Stacy Stout, Director of Education, Hispanic Center of Western Michigan

Roberto Jara, Executive Director, Latin Americans United for Progress

Donna Ewigleben, Community Outreach Coordinator, Ferris/Grand Rapids

Ana Davila-Howard, Associate Professor of Spanish, Ferris State University

Gustavo Rodriguez Moran, Assistant Professor of Spanish, Ferris State University

Natalia Carvahlo-Pinto, Advising Assistant, Ferris State University

Luzia Tartari, Coordinator of International Student Recruiting, Ferris State University

"I'd like to thank the many individuals who contributed during this planning process," Erickson said. "I truly believe this center will serve as a valuable resource for our students and faculty."