Brandon Rhodes
Hometown: Allegan
Degree: Bachelor of Science in Construction Management
On Ferris: "Ferris' Construction Management program is not only dedicated to academics, but also to making sure that we have the proper resources to succeed when we graduate."
Point of Pride: "Winning the Associated Schools of Construction Estimating Competition with my teammates this past fall. Winning the competition and being able to represent Ferris State University was great, but being part of a team like that and doing it together with five other guys who were as excited as I was, was even better and something that I haven't been a part of since playing sports in high school. I really missed that."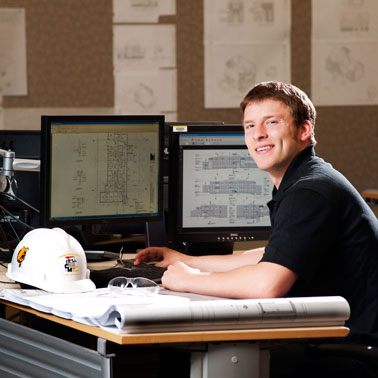 Brandon Rhodes was in elementary school when he developed an interest in building things.
"I loved figuring out how things were put together," said Rhodes, 23. "People told me I should be an architect."
Aptitude tests in high school revealed similar results, and he also took trade courses before graduating from Allegan High School in 2007.
"I loved it," Rhodes said. "Ferris was highly recommended to me by my high school wrestling coach as well as one of my teachers. I knew that I wanted to be in the construction industry, and both of them knew that Ferris' program was one of the best in the country."
Rhodes, who attended Kalamazoo Valley Community College for two years before transferring to Ferris, graduated in May with a Bachelor of Science in Construction Management. "It's not architecture, and it's not engineering," he said. "It trains you for the entire construction process."
The program blends technical instruction in construction and engineering with a strong business education that prepares students to manage and supervise the complete construction process from initial considerations through bidding to final completion. Graduates typically obtain leadership positions in general contracting, project coordination, field supervision, quality assurance/control, estimating, marketing, field inspection and contracting.
In addition to coursework, Rhodes has been a member of Associated Construction Students since 2010 and has served as treasurer. The Registered Student Organization's goal is to develop a better understanding of the construction industry and broaden the skills of members by promoting leadership, teamwork, ethics and club involvement. He also is a member of Sigma Lambda Chi, an international honor society that serves the construction industry, and was elected the Ferris chapter's president in spring 2011.
He is most proud of his involvement in the Associated Schools of Construction Estimating Competition, held each fall. In 2010, his team "finished dead last," he said. Last year, his team won the commercial division, marking the first time Ferris had won a Region 3 student competition in the 20 years the competition has existed.
The competition requires teams to develop a proposal that includes estimated project cost, scheduling, development of a site safety plan, site logistics plan and evaluation of a design for value engineering cost savings. The second day of the competition is presentation of the plan to a 10-person panel of judges.
"It was exciting," Rhodes said. "I remember physically dripping sweat. It was rough."
Ferris' Construction Management program is not only dedicated to academics, Rhodes said, but to "making sure we have the proper resources to succeed when we graduate."
"The most important resource that the program has offered, for me, is a very large network of alumni and other professionals in the construction industry. They keep up strong lines of communication with these people, and it is up to us to take advance of that opportunity."
Program faculty takes a "genuine interest" in their students, he said.
"That has made an impact on me, because it has made me feel like I am part of something," said Rhodes, who also credits his internship last summer at Granger Construction Company. "It also makes me more confident in my decision to enter into the construction industry."

This story is taken from the Spring 2012 issue of the Points of Pride newsletter, published by University Advancement and Marketing.