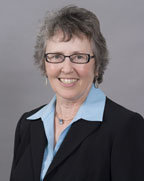 Dr. Nancy Peterson-Klein, associate dean emeritus of Academic and Student Affairs for Ferris State University's Michigan College of Optometry, has been appointed by Gov. Rick Snyder to the Michigan Board of Optometry.
The nine-member board oversees licensure requirements and standards for more than 1,600 optometrists in Michigan. Also appointed were Dr. John Kaminski of Midland, Dr. Carl Powers of Petoskey – both Ferris alumni – and Paul McNamara of St. Johns.
"These individuals bring decades of valuable and pertinent experience, and I am pleased to appoint them to the Michigan Board of Optometry," Snyder said.
Peterson-Klein, of Mecosta, held many positions at MCO since after her arrival at Ferris in 1977, including acting dean, associate dean, director of external rotations and director of affiliated residency programs. As a professor of Optometry, she provided clinical supervision of contact lens services and adult, pediatric and primary patient care.
Peterson-Klein, who retired from Ferris two years ago, is president of the National Board of Examiners in Optometry.
"I'm very pleased," she said. "The appointment to the Michigan Board of Optometry will mesh well with my duties on the national board."
She also serves on the Michigan Foundation for Vision Awareness executive board along with her husband, Matthew Klein, former dean of Ferris' College of Arts, Sciences and Education.
Peterson-Klein, who received a bachelor's degree in Physiological Optics and a doctorate of Optometry, both from Ohio State University, will represent optometrists on the Michigan Board of Optometry.
Also representing optometrists will be Kaminski and Powers. Kaminski, an optometrist for Mid-Michigan Eye Care in Midland and adjunct faculty for Central Michigan University's physician assistant program, received a bachelor's degree in Applied Biology from Ferris. Powers, president of Carl F. Powers OD PLLC in Petoskey, holds a doctorate of Optometry from Ferris.
McNamara, retired from service as president and chief executive officer of Clinton Memorial Hospital in St. Johns and as director of network services at Sparrow Health System, will represent the general public.
Peterson-Klein, Kaminski and Powers will serve four-year terms that expire June 30, 2016. McNamara will serve the remainder of a four-year term that expires June 30, 2015. Their appointments are subject to the advice and consent of the Senate.