Tom Medendorp
Hometown: Zeeland
Degree: Bachelor of Science in Technical Education
On Ferris: "Ferris has provided me with a top-notch education. What I have learned will serve me well in my position as a technical education instructor and in my pursuits outside of my full-time classroom."
Point of Pride: "I have finally made it to the point of becoming an educated educator. I have learned more about teaching from the examples of my professors than I have from books. Seeing, in action, what I wanted be made it possible to achieve my goals toward being a 'teacher,' rather than just a guy telling people about what I know."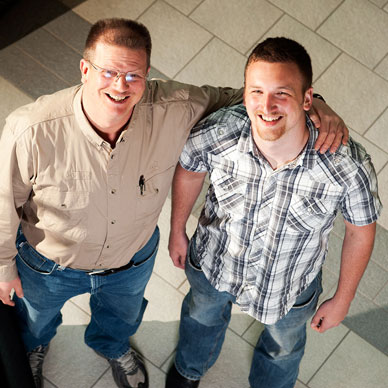 When Tom Medendorp received his Bachelor of Science degree in Technical Education during spring commencement ceremonies at Ferris, it was with his son by his side.
The 43-year-old Zeeland father walked with Jacob, 20, who earned an Associate in Applied Science degree in Welding Technology from the College of Engineering Technology.
"That makes it more special," Medendorp said.
Ferris is a special place for the Medendorp family. Jacob will continue his education in Ferris' Welding Engineering Technology program to earn a Bachelor of Science degree. His brother, Lucas, will attend in the fall with the goal of becoming an engineer.
And Tom hopes to return one day to teach at Ferris.
"I have an affinity for the town of Big Rapids," he said. "I have been frequenting Big Rapids since the year I was born by going to Cran-Hill Ranch every year with my parents and then with my own children. It just seems to be the right fit.
"I would love to complete my master's in an area that will allow me to teach for Ferris State University."
Medendorp worked for 20 years as an electrician before becoming an electrical apprenticeship instructor on the adjunct staff at Grand Rapids Community College and later at Careerline Tech Center in Holland, Mich., where he has been for the past nine years. Once he began teaching there, he was required to obtain a bachelor's degree in Technical Education in order to teach at the secondary level.
"It has been a long hard road to completion," he said. "Completing a four-year degree in eight years is not as easy as one might think. With a full-time teaching job, three growing children, peripheral business and a home to care for, it's not a simple task. With the patience of my family and the patience of my instructors at the college level, I have made it."
He also credits Ferris staff with making his experience positive.
"From taking classes online to attending at the Grand Rapids campus to attending classes during the summer semester on the Big Rapids campus, the staff has been outstanding and helpful," Medendorp said.
Medendorp, who hosts "The Outdoor Show" at 7 a.m. Saturdays on WHTC-AM (1450) or online at whtc.com, also has a business called West Michigan Firearms Education that aims to educate people in the safe and responsible use of firearms.
"It was born out of my love for the outdoors, hunting and shooting sports, and an apparent need for people to become educated," said Medendorp, who teaches Michigan Hunter Safety as well as NRA classes in home firearm safety, basic shotgun, rifle and pistol shooting, personal protection and range safety. He will be adding the NRA's "Refuse to be a Victim" course shortly.
While obtaining his degree was not without its challenges, he was motivated by a desire to educate high school students "as well as the desire to be an example for my children in regard to the value of an education."
That example obviously has been recognized by his sons.
"Ferris is one of the top welding schools in the nation," said Jacob, who throws javelin and discus for the Bulldogs' track team. "Ferris has provided me with the skills and knowledge to succeed in the workplace."
What motivates him?
"Knowing that when I graduate with my bachelor's degree, I have a job waiting for me."

This story is taken from the Spring 2012 issue of the Points of Pride newsletter, published by University Advancement and Marketing.