Patrick Meade
Hometown: Ionia, Mich.
Degree: Doctor of Optometry
On Ferris: "The really close-knit, family environment made the transition into professional school much easier. The open-door policy made it easy to approach faculty members and further my education to the best of my ability."
Point of Pride: "I really pride myself on being able to take care of my patients and their needs. I try to be a very open and easy-to-approach person, because I like to make people comfortable."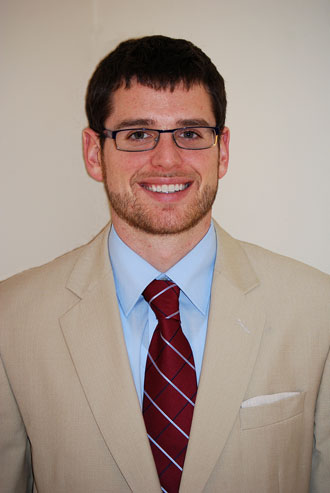 Patrick Meade's decision to serve people as a doctor of optometry has evolved into a desire to serve his country as well.
The 2004 Ionia High School graduate, who received a Doctor of Optometry degree this spring from Ferris State University, is headed to officer training school at Maxwell Air Force Base in Biloxi, Miss. to begin a career caring for the vision of Airmen and their families.
"I've always been open to the possibility," said Meade, 26. "I'm glad I made the decision to pursue that goal."
Meade credits Dr. Robert Buckingham, interim associate dean for Student and Academic Affairs of the Michigan College of Optometry, with helping to shape his career. Buckingham, who served in the U.S. Air Force for 20 years, was "an excellent resource and mentor for me" and helped Meade land a Health Professions Scholarship to help pay for his education. The scholarship requires a three-year commitment in the armed services.
"Dr. Buckingham exemplifies the hard work and caring demeanor that MCO aims to instill in all of its graduates," Meade said. "It was never a surprise to drive past MCO after everyone had left and see Dr. B's light still on or to receive an email response from him long after business hours."
"Pat is an outstanding student and future leader in optometry," Buckingham said of Meade. "He is someone who will give back to the community."
Meade's extra-curricular involvement in MCO exemplifies his commitment to service. He was elected the college's student government president and was an active member of the Student Volunteer Optometric Services for Humanities that traveled to Mexico to treat 1,700 patients.
"Outside of academics, I tried to take part in every intramural sport that Ferris has to offer, always with the goal of winning the championship t-shirt for (classmate) Courtney Moliterno," said Meade, who first earned a Bachelor of Science degree from Michigan State University. "Sadly, we never quite made it."
Meade, whose first tour will be at Andrews Air Force base in Washington, D.C., is thankful he never faced any personal-life complications during the eight years he spent in school.
"I consider myself lucky not to have had to deal with any challenges outside of the tough academic challenges obtaining a graduate degree presents," he said. "Once you realize how much you're really taking on, it's a little overwhelming. "
But worth it.
"My greatest motivator is to be able to best serve my patients," Meade said. "MCO has been a great beginning to my career, however, it has been instilled in us that practicing optometry means being a lifelong student. There will always be new information to learn in order to care for patients to the best of your ability. In the end, that is the goal."

This story is taken from the Spring 2012 issue of the Points of Pride newsletter, published by University Advancement and Marketing.