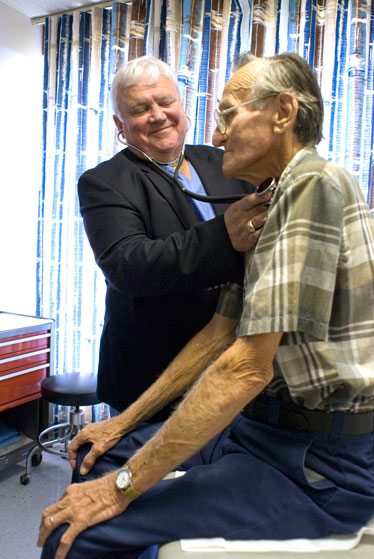 Dr. Ronald Mahoney calls his education at Ferris State University "an essential piece of my career puzzle."
Now, his appointment to The Ferris Foundation Board of Directors will allow him to have a hand in making the dream of an education a reality for others.
"This certainly rekindles that alumni fire," said Mahoney, a 1959 College of Pharmacy graduate who now serves as a cardiologist in Houston. "Ferris is meeting the needs of students now, and it certainly met mine then."
This isn't the first honor for Mahoney, whose appointment was approved this spring by the university's Board of Trustees. He also was the first recipient of the Ferris Humanitarian Award, presented in 2008 for his service during the Vietnam War as an artillery battalion surgeon and village doctor, as well as his outreach activities in rural cardiac clinics that serve low-income patients in the Houston area.
In 2009, Mahoney was presented with the Distinguished Alumnus Award, given to alumni who demonstrate leadership and service to their profession, to society by promoting and celebrating diversity, to community and service organizations by promoting health and well-being of its members, and to the university.
"On behalf of the board, we welcome Ron," said Carla Miller, executive director of The Ferris Foundation. "As a board member, he brings great passion for Ferris State University and wonderful skill sets that are aligned with the corporate sector. We look forward to gaining from his unique perspective and guidance."
Mahoney, who grew up in Standish, began his career in medicine after realizing a college education was a necessity.
"I really didn't have a sense of direction when it came to my future," he said. "I knew I needed an education, but I didn't know what I wanted to do."
He worked a variety of jobs to help his parents, including at a local gas station. His high school principal told him to quit pumping gas and go see the pharmacist at the Rexall drug store about a job as an apprentice.
"It was natural to proceed and go into pharmacy," he said.
Mahoney enrolled in what was then Ferris Institute in 1955 to formally study pharmacy. He immersed himself in the college experience, becoming an advisor in Masselink, Helen Ferris and Vandercook halls his first three years, then pledging the Delta Tau Epsilon fraternity (now Lambda Chi Alpha).
He also played baseball his freshman year and football his freshman, sophomore and senior years. In 1959, his senior year, he received the Bulldog of the Year award, the most-coveted award for Ferris student-athletes.
"I was involved in a lot of campus activities," said Mahoney, who earned an academic scholarship to help with tuition. "I felt right at home at Ferris, and Ferris did a fantastic job of preparing me for a pharmacy career. It was a friendly environment where everyone felt like they belong, and it still is today."
Mahoney also served as president of the Newman Club (now the Newman Center for Catholic Students). That's when he was encouraged by Club Chaplain Fr. James Cusack, a close friend, to continue his medical career and apply to Loyola University Stritch School of Medicine in Chicago.
He earned his medical degree in 1963 and interned at Chicago's Cook County Hospital before being drafted by the U.S. Army. He spent a year at Fort Riley in Kansas before he was deployed to Vietnam as a captain and doctor in the 1st Infantry Division. He treated wounded U.S. soldiers as well as Vietnamese soldiers and civilians in remote villages outside the war zone.
Mahoney was awarded a Bronze Star for meritorious achievement in ground operations against hostile forces. He also was awarded the Vietnamese Medal of Honor.
When he returned from Vietnam, Mahoney attended the University of Iowa, where he completed his residency in 1968 and his fellowship in 1970.
Mahoney is currently the director of cardiology at Methodist Sugar Land Hospital in Sugar Land, Texas. He also founded the heart program at Houston's Memorial Hermann Southwest Hospital. Throughout his career, he spent many years and thousands of his own dollars establishing outreach clinics in surrounding rural communities for patients unable to travel to the city for specialized heart care.
"If the mountain won't come to Muhammad, Muhammad must go to the mountain," Mahoney said. "To me, that's a natural thing to do."
And even at 75 years of age, he has no interest in retirement. He spends Mondays and Fridays at Sugar Land Hospital, Tuesdays and Thursdays at Memorial, and Wednesdays traveling to a clinic in Eagle Lake.
"I haven't really made plans for retirement," he said.
He is anxious to return to Big Rapids for his first meeting of The Ferris Foundation board. He has seen ongoing changes on campus during visits for various reunions, and most recently, to accept the Humanitarian and Distinguished Alumnus awards.
"It's startling to see how it's expanded since I was a student," Mahoney said.
He said he is impressed but "not surprised" by Ferris' continuing efforts to provide relevant educational programs designed for successful careers. His biggest disappointment is that men's ice hockey wasn't a varsity sport at Ferris when he was a student. He was a staunch follower of last season's journey to the Frozen Four championship.
"I like having bragging rights," said Mahoney. "This is a fighting team that deserved to be there, and a great tribute to the university. It also is great exposure for Ferris and permeates all of our programs, and justifiably so."
He and his wife, Donna, a nurse at Sugar Land Hospital, have eight children and 10 grandchildren.
Since it was established in 1991 to address the need for a long-range fundraising program to provide opportunities for students, The Ferris Foundation has increased endowment funds to more than $35 million. It is governed by the board of directors, whose members are appointed for three-year terms.
"We are excited to have Dr. Mahoney as a member of our board. He brings a special set of skills that will enhance and improve our efforts to accomplish our goals," said board chair Kevin J. Cross. "Dr. Mahoney not only has been successful in his occupation, but has been recognized for his work in humanitarian areas, which will benefit our board immensely. We look forward to having him as an important member of our team."