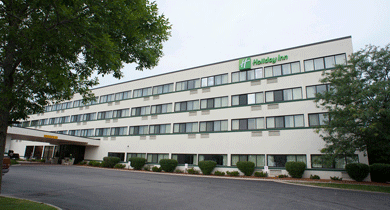 Ferris State University's Board of Trustees, at its regular meeting on Wednesday, July 11, approved an agreement for Michigan-based American Hospitality Management, Inc. to purchase the university-owned and operated Holiday Inn Hotel and Conference Center in Big Rapids.

Ferris has owned the hotel since construction was completed in 1990. Terms of the purchase are not being disclosed.

AHM, formed in 1999 and based in Cheboygan, has 25 properties in nine states, including eight properties in Michigan. The company is a nationwide, award-winning, hospitality management group that services limited and full-service hotels, extended stay and resort properties.
"American Hospitality Management is very pleased to have reached an agreement with Ferris to purchase and operate the Holiday Inn Hotel and Conference Center in Big Rapids," said Donald R. Schappacher, president and CEO/co-founder of AHM. "The addition of the Big Rapids Holiday Inn is a great fit for our company, allowing us to expand geographically and strengthen our connection to the state of Michigan.

"Big Rapids is a great university and vacation community, and a gateway to Northern Michigan. Our team at AHM envisions a great opportunity to complement Ferris and its world-class educational offerings," Schappacher added. "We look forward to developing a strong relationship with the university and with the Big Rapids community."

Prominently located on Perry Avenue in Big Rapids, the Holiday Inn sits on the edge of Ferris State's campus and next to the university-owned Katke Golf Course. Currently, the hotel features a large number of meeting rooms and banquet facilities for weddings and other events, as well as a full-service restaurant and bar, swimming pool and fitness center.
AHM has expressed a commitment, pending successful completion of the due diligence period, to interview every current employee at the Holiday Inn and Conference Center that would like to work for AHM.
"We are very pleased with this commitment, knowing that this will be important to these employees, their families and our community," said Jerry Scoby, vice president for Administration and Finance at Ferris.

AHM is interested in building a relationship with Ferris' hospitality management program, to provide internships and work opportunities for students at the Holiday Inn.

"The university is very excited about the recently executed purchase agreement entered into with American Hospitality Management on the sale of the Holiday Inn and Conference Center," Scoby said. We are also very pleased that AHM is investing new capital into the property and is committed to owning and operating this as a quality hotel property. While it is premature to set a closing date, we would expect that this sale would be complete by the end of October."