Zane Devon
Hometown: Grand Rapids
Degree: Bachelor of Applied Science in Digital Animation and Game Design
On Ferris: "The greatest benefit I've received from Ferris is the networks I've been given the opportunity to connect with."
Point of Pride: "I've been blessed to have the opportunity to take a leadership role as an artist in a game studio while still a student."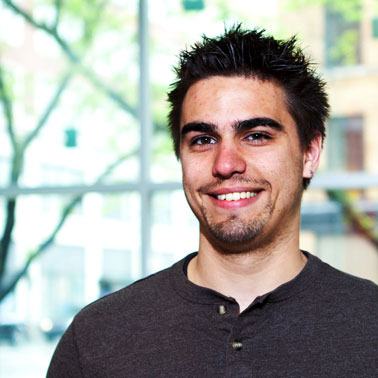 While other kids were playing with Tinker Toys and Lincoln Logs, Zane Devon was playing with Photoshop and Illustrator.
And now the Grand Rapids native is living his dream. Devon works as junior creative director at YETi CGI, a design and production studio based in Grand Rapids for Web, mobile and social gaming.
What is cool is that he has worked there for two years, but just completed a Bachelor of Applied Science in Digital Animation and Game Design from Ferris.
"Connections through Ferris resulted in me getting an internship in my target industry while only a sophomore, which then turned into a full-time job," Devon said. "This means I'm graduating with a degree in Digital Animation and Game Design in addition to having two years of experience in the industry already."
He became enamored with the industry after becoming addicted to a game called "Halo: Combat Evolved" on Xbox. A friend showed him a concept sketch he had done for a human counterpart to an alien vehicle, and Devon's response was "Let's make a game!"
"Thus the seed of passion for creating art for video games was planted."
Devon grew up in a creative household. His parents are graduates of Ferris' Kendall College of Art and Design. His mother left her job in fashion design to homeschool Devon, now 22, his brother and two sisters. His father, who majored in Illustration, is creative director and owner of Grey Matter Group, a marketing firm in Grand Rapids. Devon was a high school student working at Grey Matter when a co-worker recommended Ferris' DAGD program.
"I chose Ferris because it was recommended, it was located in downtown Grand Rapids and because it was affordable," Devon said. "It was pretty much a no-brainer for me."
Devon credits Robert Evans, a DAGD instructor, with pushing him to grow as an artist.
"He is always willing to help and will go the extra mile to help solve any problems that I or other students may face," Devon said. "He is one of the most technically proficient people I know and is willing to give a realistic critique if a student's work is not up to professional standards."
Beyond academics, Devon has participated several times in Ferris' Frag Fest, a 24-hour game event held each semester, and began working at YETi after seeing an advertisement for an apprenticeship there. The business is run by three partners, two of whom have worked as instructors at Ferris and one who continues to teach.
"The moment I saw the poster, I booted up one of the lab computers and sent in my application," he said. "Now, at 22 years of age, I am finishing my senior year at FSU and am junior creative director at YETi CGI.
"One of the greatest challenges I face is balancing academics with work. I don't get a lot of sleep."
As for future goals, Devon is pretty happy doing what he's doing.
"I'm there right now. I'm really blessed to have the opportunity to take a leadership role as an artist in a game studio while still a student," he said. "I love to tell stories through visuals and graphics, and am very passionate about honing my craft to become the best possible artist I can become … I would like to take a lead art director role on some game projects, but this is where I want to be. I was born and raised here."


This story is taken from the Spring 2012 issue of the Points of Pride newsletter, published by University Advancement and Marketing.