Danielle Bowman
Hometown: Big Rapids, Mich.
Degree: Bachelor of Science in Music Industry Management
On Ferris: "Ferris has helped me by allowing me to obtain a rare degree with the added stability of a business background."
Point of Pride: "Being a part of such an incredible and unique program and association with MIM and MIMA. That is what will prepare me for my future career."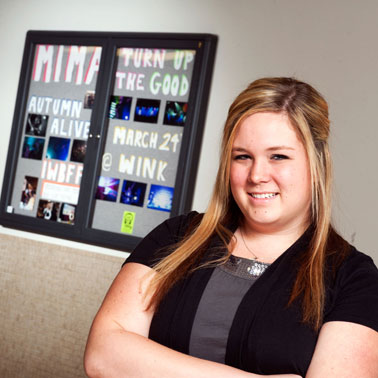 She doesn't play an instrument or sing professionally, but Danielle Bouwman knows the Bachelor of Science she received this spring from Ferris State University will help her land a job in the music industry.
As a Music Industry Management major, the Big Rapids resident has learned what it takes to put on a concert, produce and distribute recordings, and how to manage legal issues within the music industry. The College of Business bachelor's degree program is one of very few in the country. Students take classes in accounting, financial management, marketing, advertising, public relations, consumer behavior and retail principles. Two internships are required.
"Ferris has allowed me to obtain a rare degree with the added stability of a business background," Bouwman, 21, said. "This allows me to pursue any business field should I decide to not follow the music industry one day."
Her goal, however, is to combine a passion for music with her business education and turn it into a lucrative career in the supervision side of the music or film industry, such as copyrighting and licensing.
"Music is something that I've always really loved," she said. "As soon as I heard it in shows and movies, I decided I want to be a part of choosing what people hear."
MIM students gain practical experience through involvement in the Music Industry Management Association, a registered student organization that functions as a model production company. MIMA produces live events on campus, such as Autumn Alive and spring's Turn up the Good electronic music festival.
"I gained amazing leadership experience through MIMA," said Bouwman.
She has been involved with the organization three years, including on its executive board.
Her internship last summer with the Grand Rapids Symphony, working primarily on its Picnic Pops summer concert series, gave her hands-on experience with contracts, hospitality and day-of-event assistance.
She plans to complete her final internship this summer, hopefully in Los Angeles or another metropolitan area. The program consistently places interns and employees in major markets including L.A., New York and Nashville, and regional markets such as Chicago and Detroit. Many find themselves working for record labels, radio stations, manufacturers, agents and concert venues.
"I'm from a small town, but I want to be in the city," Bouwman said.
That won't be a problem if that's what she wants to do, said program coordinator Daniel Cronk.
"The industry is everywhere – it's just a matter of scale, and that's the beautiful part of it," said Cronk, whom Bouwman credits along with administrative assistant Lori Armstrong with making a significant impact on her "because of their endless dedication to MIM and its students."
"(Danielle) is the ideal – the model student for this program. Academically she performs well and she has an old-school work ethic. She's the first one there and the last one to leave. Nothing is above her. That's the kind of student who makes it."

This story is taken from the Spring 2012 issue of the Points of Pride newsletter, published by University Advancement and Marketing.