Alex Barker
Hometown: Norway, Mich.
Degree: Doctor of Pharmacy
On Ferris: "Ferris' College of Pharmacy faculty is exceptional at developing students into clinical and critical thinkers who get jobs."
Point of Pride: "I finished six years of training to become a Doctor of Pharmacy. Not only that, but during those years, I became a husband and father."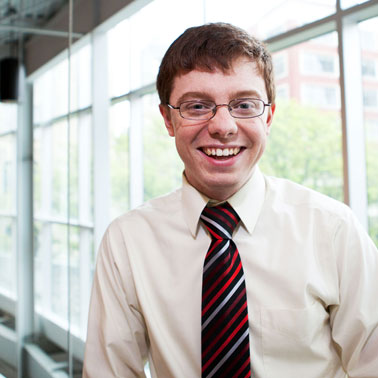 His faith in God is what motivates Alex Barker to pursue the practice of restoration of health.
"I believe that God can use pharmacists to improve health of the sick," said Barker, who received his Doctor of Pharmacy this spring from Ferris State University. "Many people forget that health care professionals, like nurses and physicians, are here to help heal the sick, not to be a barrier to health. Too often people focus on the problems of health care. We are trained to restore people to original health, and it brings us satisfaction."
The 2006 Norway High School graduate chose to attend Ferris because of the university's emphasis on job placement.
"The word 'recession' has many college students afraid of spending thousands of dollars on education and receiving no benefit of employment after graduation," said Barker, 24. "As many of us already know, health care is affected by our market's recession and limited the availability of jobs. However, Ferris' College of Pharmacy faculty is exceptional at developing students into clinical and critical thinkers who get jobs. I would not be successful if it wasn't for the mentorship of my professors."
He credits Dr. Jeff Bates, who he met during his first year of Pharmacy school, with pushing him to succeed.
"When we met, we didn't just discuss pharmacy-related topics, but discussed politics, philosophy, faith and how these important issues affect how we live today," Barker said. "I am so thankful for our relationship and the wisdom that he shared with me. I will continue our relationship many years past my time at Ferris."
Barker also benefited from the "inspiring" relationships he developed during his fourth year of training under faculty and adjunct preceptors' supervision.
"Our preceptors have a strong desire for us to succeed," he said. "They continually push us to excel in our professional practice, and they rejoice with us when we succeed. My relationships with experienced and wise faculty have given me a sense of motivation and a clear feeling that 'I can do this.'"

During his graduate years, Barker gained valuable work experience at multiple pharmacies, including Rite Aid, Spectrum Health and the U.S. Department of Veterans Affairs.
"I strongly recommend future students work in a pharmacy setting, even if it's for four hours a week," he said. "Work experience is a critical adjunct to learning and has the bonus of creating great networking opportunities for your career."
Barker balanced the tough demands of pharmacy school with involvement in student pharmacist organizations and local church events. He attended Big Rapids Trinity Fellowship, where he met his wife, Megan (Mason) (EHS, '10). They were married in January 2010 and now have a young daughter, Elizabeth Ann.
Barker and his family will move from their home in Kentwood to Oakwood, Va., where he will complete a one-year pharmacy residency at Appalachian College of Pharmacy.
"My residency is an intensive training program in which I will focus on rural health care," he said. "The college's mission is focused on promoting health care to less-privileged people in the Appalachian area."
After that, the possibilities are endless. Barker has been offered interviews at multiple colleges of pharmacy, and he also is considering work as an ambulatory care pharmacist. However, he also is intrigued by the idea of returning to Ferris to teach.
"I found as a fourth-year pharmacy student that I loved to help 'younger' students understand the pharmacy profession," he said. "I love creating a passion within students to strive for a better tomorrow in health care. I believe Ferris State facilitates an environment of creative and innovative thinkers to develop the next generation of workers, and I want to be a part of that."
College of Pharmacy Dean Stephen Durst has no doubt Barker will succeed, no matter what career path he takes.
"He's an ambitious student," Durst said. "His confidence is what I'm impressed by."

This story is taken from the Spring 2012 issue of the Points of Pride newsletter, published by University Advancement and Marketing.