Each year, hundreds of Ferris State University students gain valuable work experience through an internship. The experience of an internship also can confirm or redirect career decision-making, provide marketability, develop people skills, and enhance classroom learning. Many academic programs require an internship, but the experience is encouraged regardless to provide students with a better understanding of what will be expected of them in the workplace.
Students are participating in various internships in a variety of locations this summer. Meet Micah Asohan: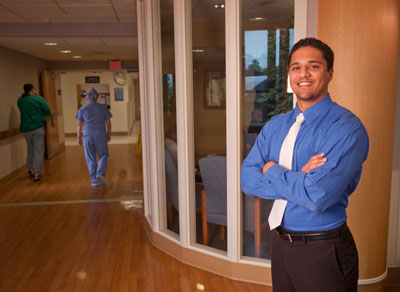 Who: A senior from Big Rapids majoring in Marketing
Internship: Public relations at Mecosta County Medical Center, an acute-care hospital that serves Mecosta County and the surrounding area.
What he's learning: Asohan assists in planning special events the hospital presents, such as contacting 84 potential sponsors for a charity golf outing that netted $3,000 in donations. He is working on a PowerPoint presentation for the hospital's Inpatient Medical Rehabilitation Unit that he and his director will present to groups in the Big Rapids community to market its benefits.
"I am learning a lot about marketing," Asohan said. "Our department helps other departments advertise when they need it, and we help market different departments we know will bring in revenue."
How he's benefitting: The internship has created networking opportunities Asohan said could open the door to a second internship or job after graduation.
Goal for the future: Asohan plans to move to Richmond, Va., to pursue a job selling medical or fitness equipment supplies.