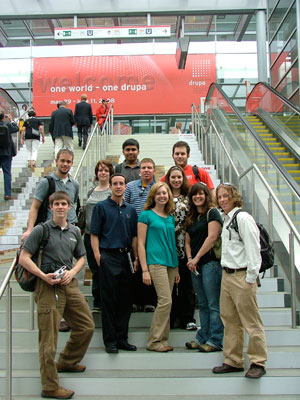 One way to learn more about Ferris State University's study abroad opportunities is by attending its Study Abroad Showcase on Tuesday, Jan. 24 and Wednesday, Jan. 25 in IRC 134 from 9 a.m. to 1 p.m. both days.
The Office of International Education is encouraging students who are interested in study abroad programs to become education about the courses that are available overseas or through the National Student Exchange.
"Studying abroad gives students opportunities to enhance their view of the world and its many cultures through firsthand experiences rather than just through a textbook," said Tara Braun, Study Abroad and National Student Exchange manager.
Students who choose to study abroad can blend firsthand experience with the knowledge that they have gained through traditional classroom education.
"Study abroad sets you apart from the traditional college student, which makes you unique and helps you to stand out among your graduating class. It shows that you adapt to changes, welcome new challenges and broaden your opportunities in life," said student Carlvin Dorvilier, who participated in the Study Abroad Summer 2011 at Dankook University in South Korea.
The Study Abroad Showcase gives students opportunities to engage faculty members who host the programs and peers who have participated in pervious study abroad trips.
For more information about Ferris' Study Abroad Showcase, visit the OIE website, here.
Study Abroad Showcase
January 24 and 25 in the IRC Connector; 9am to 1pm
Learn about the world and its cultures by experiencing them first hand with one of our faculty programs. Faculty from select programs will be available to discuss their programs.
Tuesday, January 24
9am to 1pm

France with Professor Dan Noren

9am to 1pm

Italy and Russia with Professor John Caserta and Professor Mike Ryan

9am to 1pm

New Zealand with Professor Sandy Burns

1pm to 2pm

Scotland/Ireland with Professor Sandy Alspach

11am to 1pm

England/Paris with Professor Katherine LaPietra and Professor Connie Morcom

9 am to 12pm

Italy with Professor Robert Quist
Wednesday, January 25

10am to 11am

Germany/Austria with Professor Charles Vannette

11am to 12:30pm

England/Paris with Professor Katherine LaPietra and Professor Connie Morcom

10am to 11am

Scotland/Ireland with Professor Sandy Alspach

9am to 1pm

New Zealand with Professor Sandy Burns

9am to 1pm

Italy/Russia with Professor John Caserta and Professor Mike Ryan

9am to 1pm

France with Professor Dan Noren