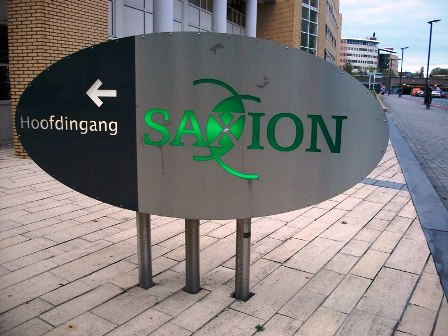 A Summer 2012 Study Abroad trip to Western Europe has been made possible thanks largely to an October visit to Saxion University in the Netherlands by Ferris State University professors Greg Gogolin and Marty Lier.
Gogolin and Lier traveled to the Netherlands on a mission to help build a stronger relationship between Ferris and Saxion and to open the door for future collaborations between the schools. As part of the trip, the two Ferris faculty members observed classes, curriculum layouts and worked toward a bi-directional exchange program that would be open to faculty and students. A prior agreement between Ferris and Saxion ended in late September. That helped create an opportunity for Gogolin and Lier to travel to SU and help renew the collaboration.
"I think, in a very short period of time, we renewed friendships and significantly increased the impact of the agreement, because there are a lot more people in both universities that are interested in taking advantage of it," said Gogolin, the 2010-11 recipient of Ferris' Distinguished Teacher Award and an Information Security and Intelligence professor.
Students who sign up for the "Western Europe: Cyber Security and Digital Media" trip will travel to Belgium, Germany, Luxembourg and the Netherlands, June 9 through 23. Among the trip's goals is to give Ferris students an understanding of the European culture, strengthen global awareness and examine commerce, security, digital media, cyber security systems and how these topics present global challenges.
"What is really cool is that there are so many possibilities and potential benefits for both universities. We could do simulations and work with forensics or with crime scenes," said Lier, a DAGD professor in the College of Professional and Technological Studies. "I just think that their interest in our program was really cool. I think it is a win-win for both sides."
While many graduates of Ferris' DAGD program find jobs in the western U.S., Lier is confident that students also can find attractive career opportunities abroad, including in Europe.
"The video game industry is not just in the U.S. anymore," he said. "Many companies are shipping work all over the world."
Gogolin said that he hopes the Saxion partnership will give students and faculty a better global perspective for the DAGD and ISI programs.
Lier served as a guest teacher for a Photoshop course and a Flash course. As Dutch is his first language, Lier was an instant hit with Saxion students.
"For me, it's a blessing to communicate with the people there," he said.
Both professors hope to make the Ferris-Saxion relationship stronger through future faculty exchanges and encouraging student interest in the program.