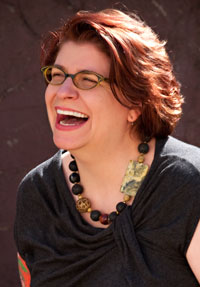 Jessica Pettitt is a nontraditional diversity speaker. As part of her nontraditional approach, she plans to add a twist of humor to what should be an entertaining and informative presentation on Wednesday, Feb. 22 at 7 p.m. in Ferris State University's Williams Auditorium.
This event, sponsored by the student organization Entertainment Unlimited, is free and open to the public.
Event attendees can expect to be laughing while thinking during what organizers envision as an interactive program. Pettitt's presentations are products of her personal history that includes 10-plus years of work in student affairs, five-plus years of national consultant work and two-plus years of stand-up comedy. Her mission is to inspire change, dismantle oppression and reclaim the responsibility to make change. Pettitt's programs include keynotes, trainings and workshops as she focuses on current events, politics and theory through humor. Ultimately, her goal is for attendees to leave the event with a course of action to make improvements in their lives.
Pettitt has been nominated the past two years by Campus Activities Magazine for "Best Diversity Artist."
Her appearance is free and open to the public through funds allocated by the Finance Division of Student Government.