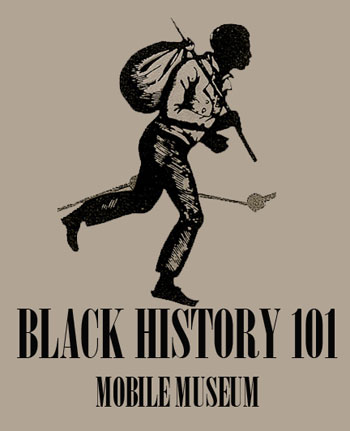 Ferris State University alumnus Khalid el-Hakim will showcase his nationally-known exhibit in Room 125/127 of the Rankin Student Center on Monday, Feb. 13 from 9 a.m. to 7 p.m. This event is free and open to the public as part of Black History Month activities sponsored by the Office of Multicultural Student Services.
The "Drum Majors for Justice" exhibit is part of el-Hakim's Black History 101 Mobile Museum. "Drum Majors for Justice" is a celebration of the contributions of African-Americans in politics with a focus on individuals who were inspired by Dr. Martin Luther King Jr.
A 36-year-old Detroit public school teacher, activist and founder of the Black History 101 Mobile Museum, el-Hakim attended Ferris where he was influenced by current Vice President for Diversity and Inclusion David Pilgrim, curator of the Jim Crow Museum of Racist Memorabilia. It was at that time el-Hakim became interested in the creation of a project that would have a lasting impact on young people.
"My former Sociology professor at Ferris State University, David Pilgrim, encouraged me to collect artifacts as a tool to expose people to the ugly history of racism in America," el-Hakim said. "This collection is my gift to black history. The history of black people in this country is something that should be celebrated and studied not just in February, but throughout the year."
The time that el-Hakim spent with Pilgrim was profoundly influential, but he did not realize his true purpose until the Million Man March in 1995. It was at that time his hobby was transformed into a museum.
"When I stood in the middle of one million-plus brothers, and felt that energy of being a part of a great historic event, I wanted to go back to Detroit and share that energy," he said.
His first piece was collected in 1991 during a brief stop at a Tennessee gas station. Since that time, his collection has grown to more than 1,500 artifacts of African-American culture.
"It is important to collect these types of artifacts as a reminder to Americans of what our struggle for freedom has been," el-Hakim said.
His concept for a mobile exhibition differs from the traditional model of museums, which are typically sources to be found and observed. Instead, his vision is one that meets the educational and cultural needs of the community by "bringing the museum to the people." Included in the "Drum Majors for Justice" exhibit are more than 150 artifacts including rare documents and photos signed by Barack Obama, Daisy Elliott, Douglas Wilder, Charles Rangel, Tom Bradley, John Conyers, Jesse Jackson, Rosa Parks, Coleman Young and Maynard Jackson.