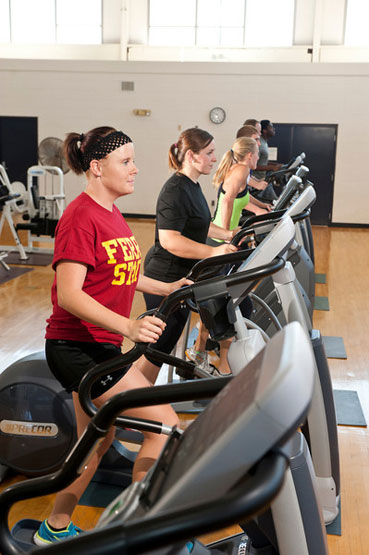 Staying fit isn't the only thing Ferris State University's University Recreation services can offer students.
"One of the most important aspects of getting involved with sports is stress relief," said Fernando Labra, who coordinates intramural and club sports for URec. "Whatever it is that helps you recreate, if it's playing softball or basketball, or just coming in here to run on the track, physical activity helps you escape your day."
Aside from the track and workout equipment, URec offers various fitness classes, including yoga, dance and aerobics. Also available to students are a rock wall, pool, and basketball and volleyball courts.
"There are so many things you learn from sports that you don't learn in the classroom," said Labra, who has been at Ferris since 2010. "No matter what career you go into, you have to work with people, which you do in intramural and club sports, as well as learn organization skills, time management and conflict resolution."
URec will launch its annual Rec Fest from 6 to 10 p.m. Tuesday, Aug. 28 at the Student Recreation Center. Last year, Rec Fest consisted of team tournaments, which limited the number of students able to get involved. The event this year focuses on individual skills, such as shooting a basketball or participating in a punt-and-pass competition for football, which Labra hopes will draw a lot of students to discover everything URec has to offer.
"A lot of people don't realize we rent out skis, backpacks, as well as tents and camping supplies if you want to go camping," Labra said.
UREC also will offer new sports this year, such as floor hockey, disc golf and a Strongest Bulldog Contest, similar to the Karas Cup, named after Frank Karas, who founded Ferris intramurals in the 1950s. The year-round competition will encourage students to put a team and sport together; a trophy and shirts will be awarded to the team that not only wins the most, but has the most participation.
Also new this year will be a Homecoming 5K and an Xbox tournament, plus intramural sports champion shirts will be different.
"Staying active means staying healthy; it helps you keep your mind fresh and leave your day behind," said Labra, who enjoys working out, playing flag football and participating in the Big Rapids softball league. "Coming to the Rec for 30 minutes or an hour is a very small fraction of your day that could turn out to be the best part.
"Recreation is extremely helpful as far as your stress levels, your acclamation to school, especially if you're a new student, and socializing, which many students do before, after or even during their workout," he said.
Last year, more than 3,300 students participated in intramural sports alone. Labra hopes to see that number jump to 4,500 this year. Online registration forms will be available soon, he said.