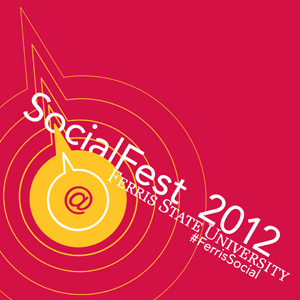 One of the many opportunities Ferris State University will offer students to get the new semester off to a fun and engaging start is Social Fest 2012.
An event developed by the university's Social Media Team, Social Fest 2012 is designed to promote positive social media engagement for students while also striving to promote some of the many resources and services available to students on campus. The event is a weeklong celebration of all things cyber, digital, fun and social. Social Fest 2012 commences on Monday, Sept. 10 and runs through Saturday, Sept. 15.
To help promote Social Fest 2012, a special promo video was shot featuring Ferris students Katie Frahm, a senior majoring in Respiratory Care; Avery Larson, a senior in Public Relations; Ethan Pineda, a senior in Biology; and Byron Terrell Williams, a senior in Public Relations.
The video was shot and edited by Richard Piippo, multimedia coordinator, on location at the Yeoman Photography Studio in Big Rapids. Piippo was assisted by university photographer Bill Bitzinger and assistant university photographer Matt Yeoman. The script was written by Larson and Amber Balmer, coordinator of student activities from the Office of Student Leadership and Activities. Photography was shot by Bitzinger and Yeoman and the video was produced by Sandy Gholston, manager of News Services and Social Media, and Betsy Musolf, communications specialist.
The primary contacts for the Social Fest 2012 Planning Committee are Balmer and Gholston.