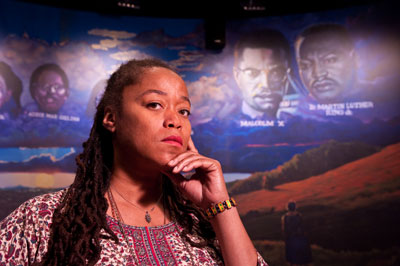 Sitting beneath an image of her late father depicted in "Cloud of Witnesses," a mural inside Ferris State University's Jim Crow Museum of Racist Memorabilia, Malaak Shabazz discussed her desire to collaborate with the museum's founder and curator David Pilgrim to further their common mission.
The daughter of slain civil rights leader Malcolm X was on the Big Rapids campus July 27 to tour the museum, which displays more than 9,000 artifacts that depict racial stereotypes and is designed to stimulate conversation about race in America.
"Disturbing enough, people need to know what happened … This is a reminder that everybody – white, black, Hispanic or Native American – should come and see what happened," said Shabazz, the youngest child of Malcolm X and Betty Shabazz. "This was a horrific time in our history, but it needs to be taught and seen and heard. This is very well done, very well done."
As she toured the museum, discussing the domestic issue of the slave trade with Pilgrim and viewing Mammy caricatures, Shabazz said the artifacts on exhibit provoke necessary dialogue. She hopes to facilitate collaboration between Ferris' Jim Crow Museum and the Malcolm X and Dr. Betty Shabazz Memorial and Education Center in New York City.
"I've been to Africa, the holding cells in Ghana and the 125th Berlin Congo Conference," said Shabazz, who serves as co-chair of a United Nations subcommittee on racism and is an international human rights activist. "This is the final result of what I had been professionally studying and speaking on abroad."
The Shabazz Center, located in the former Audubon Ballroom where Malcolm X was killed in February 1965, continues the work of Malcolm X and Betty Shabazz, who died in 1997, "through the advancement of human rights and social justice." The cultural institution, run by Columbia University, provides educational programming and includes archives and multimedia displays about the influential activists.
The Shabazz Center recently collaborated with the Smithsonian Institution Traveling Exhibition Service to exhibit "Freedom's Sisters," a multimedia exhibition that celebrates 20 African American women, for several weeks earlier this year.
Shabazz is aware the Jim Crow Museum has two traveling exhibits – "THEM: Images of Separation" and "Hateful Things," both of which are booked through March.
Pilgrim is excited about the potential to establish joint projects with the Shabazz Center.
"Malcolm X was arguably the most significant spokesperson for African-American liberation and empowerment," Pilgrim said. "It is a powerful testament to their parents' work that their children are also working to improve the lives of groups that are economically, socially and politically marginalized."
Shabazz and her twin sister, Malikah, were born months after her father's assassination.
Joseph "Andy" Karafa, director of the Jim Crow Museum, said positive feedback from Shabazz indicates the continued impact on visitors.
"In the future, we plan to be a major center for scholarship and discussions involving social justice," Karafa said. "It's not just going to be about Jim Crow; it's going to broaden."
Shabazz, who contacted officials to arrange the tour after hearing about its existence from relatives, said her father would be appreciative of the museum's efforts to address the complexities of race and violence attributed to African-American cultural advancement.
"He would think it would be necessary," said Shabazz, who visited the museum with cousins from Michigan, one of whom is a Ferris student. "He would be very proud."
The new $1.3 million, 3,300-square-foot museum opened in April in the Ferris Library for Information, Technology and Education (FLITE). Displays include a lynching tree, caricatures of the Jim Crow era, objects that symbolize African American achievement and the Civil Rights Movement, didactic panels for storytelling and a space for dialogue.