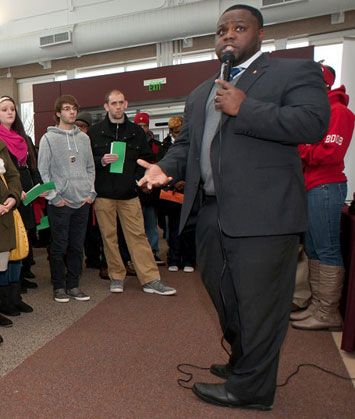 Ferris State University's Office of Multicultural Student Services continues its efforts to help new students successfully acclimate to college life and develop leadership skills starting this week with its "Transitions to Success" series of events.
"'Transitions to Success' is a benefit to students because it informs them about the importance of making healthy connections, building resources and establishing the skills necessary to be successful in college," said Michael Wade, OMSS assistant director.
The orientation program begins Saturday, Aug. 25, with a Multicultural Freshman Mixer and continues with events throughout the week, such as campus tours, an OMSS open house and workshops on financial aid and time management. A workshop on Monday, Aug. 27 will feature minority Ferris professors, administrators and student leaders offering insight and resources to assist students in making wise lifestyle choices, academically and socially. Guest speaker Jonathan Parks will offer a keynote address titled, "How to Transition to College."
OMSS, founded in 1986 as the Office of Minority Student Affairs, became the Office of Multicultural Student Services in 2009 under the leadership of current director Matthew Chaney. Chaney is assisted by Wade; Kia Hunter, GEAR UP coordinator; and office secretary Andrea Beck-Jones.
The office serves the campus community through advocacy, leadership development, mentorship, cultural awareness and college access. OMSS supports Ferris' mission by working collaboratively with students, staff and faculty to create and extend student services and learning opportunities outside the classroom.
Many students who utilize OMSS services are first-generation college students who, according to Wade, often are challenged with navigating campus and adjusting to college culture.
"The OMSS lounge is a welcoming environment and a 'home-away-from-home' for students from diverse backgrounds to engage and network," Wade said. "We believe that these efforts overall assist with incoming student retention and collaboration."
Through development programs such as Teaching Others What Establishes Real Success (T.O.W.E.R.S.) and academic readiness mentoring such as Gaining Early Awareness and Readiness for Undergraduate Programs (GEAR UP), OMSS gives students hands-on college experience.
"GEAR UP provides an opportunity for underrepresented students to discover first-hand the potential of a college education and to expose students to the information, knowledge and skills they need to complete high school and prepare themselves adequately for college entry and success," said Hunter, who has worked as GEAR UP coordinator since 2008.
This past year, Hunter worked with 720 seventh-graders who participated in visits to various universities across Michigan, Ferris Summer Camp residential programs, bi-weekly academic workshops, financial literacy workshops and more.
"The office provides culturally-enriching and socially-conscious programming to help students think about the world outside the university," Hunter said.
The office also helps students through scholarships, such as the Daudi Book Scholarship and Enterprise Rent-a-Car Book Scholarship.
"Our staff continues to be advocates for diversity and is dedicated to serving incoming and continuing students," Chaney said.
Throughout the school year, OMSS also offers cultural celebrations, hot-topic discussions and events that focus on assessment and student learning, Wade said.
"OMSS is always seeking to improve its outreach to incoming and current students," Wade said. "Beyond campus events, our department can assist students in several ways throughout their Ferris experience, and we believe outreach will increase cross-cultural experiences and exchanges for all students."