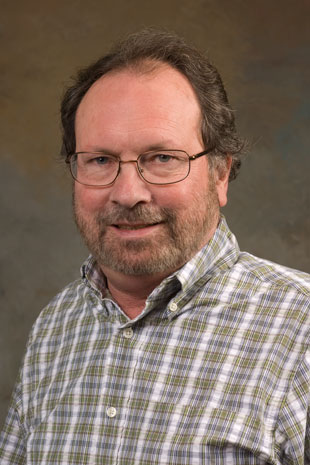 Ferris State University English professor John Jablonski hopes that he can "bring a perspective of internationalism and global awareness" to teaching. Otherwise, he said, "it would be a tragedy."
"America cannot be a lone country; we have to cooperate and work with various cultures and various kinds of languages, because the prospect of misunderstanding is greater now than it was before," said Jablonski, who has taught at Ferris for 21 years. "We have to be concerned with and respect other cultures."
Jablonski recently completed a sabbatical at the University of Debrecen in Hungary, where he received the Pro Universitate Debreceniensis 2000 Medal, which is similar to receiving an honorary doctorate.
He spent the spring semester teaching Advanced Technical Writing, Composition Theory, American Values, and Rhetoric of Race in America, a class that included viewing a DVD from Ferris' Jim Crow Museum of Racist Memorabilia.
During his sabbatical, Jablonski also researched scholar Laszlo Orszagh, creator of the English-Hungarian dictionary, who taught at the University of Debrecen from 1947 to 1950 and from 1957 to 1968. Jablonski's goal was to determine what Orszagh was like as a man and a teacher, beyond his writing and works.
"My major concern was to find out how an enlightened man and scholar fared during the times of communist rule," said Jablonski, who spoke with some of Orszagh's former students. "Orszagh managed to pursue his studies and teaching when his major fields of lexicology, a branch of linguistics, and American studies were at-best tolerated, at-worst forbidden."
The sabbatical wasn't the first time Jablonski made a trip to Hungary. He became a foreign-service officer in 1984, and then a cultural affairs officer at the U.S. Embassy from 1985 to 1987, both in Budapest. He left foreign service and began teaching at Ferris in 1991, but returned to Hungary for the 2002-03 academic year to serve as a Fulbright Lecturer at the University of Debrecen.
In 2007, Jablonski was invited to the University of Debrecen to address the importance of Orszagh, on the 100th anniversary of his birth, to an American audience. Jablonski described this opportunity as a high academic honor.
The University of Debrecen has the finest American studies program in Hungary, Jablonski said. The institute integrates English education, linguistics, North American studies and British studies. Most of the students at the University of Debrecen are Hungarian and come from Hungarian enclaves such as Romania, Slovakia and Serbia. Many of the students speak Hungarian, English, French or German.
"It's extremely challenging, but I find it very interesting to teach the students what it's like to communicate in an international setting," Jablonski said. "When I taught a History of Rhetoric class, one of my students was far better gifted in Latin than I was and she always kept me honest in my translation, but I enjoy that.
"There's an old Latin saying, 'docendo discedit,' meaning, 'He who teaches, learns,' and I always learn more from my students than they ever do from me."