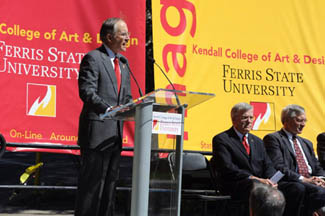 GRAND RAPIDS – Ferris State University joined with Kendall College of Art and Design, the city of Grand Rapids and the Christman Company today (Sept. 13) to officially kickoff an extensive renovation of 148 Ionia Ave. – commonly known as the Old Federal Building.
The fully restored building, scheduled to open in spring 2012, will enable Ferris' fast-growing Kendall College of Art and Design, already one of the larger art and design schools in Michigan, to expand its campus into 91,000 square feet of new classroom, studio and gallery space. The project also includes redeveloping the existing parking lot along Division Avenue into a more inviting public space and pursuing LEED certification of the renovated facility.
"We will restore this landmark building to its finest hour," said Ferris State University President David L. Eisler. "When the project is complete, Kendall will occupy three contiguous city blocks dedicated to a community of student artists, designers and creative thinkers living and learning in the heart of downtown Grand Rapids."
The announcement comes on the eve of the building's centennial. Dedicated in 1911, the Old Federal Building has throughout its history served as a courthouse, a post office and the Grand Rapids Art Museum. The building today is recognized on the National Register of Historic Places although it sits largely vacant and in a state of disrepair. It also in recent years became a burden on the city of Grand Rapids budget.
As new space for Ferris' Kendall College, the building will again play a central role in the growth and vitality of Grand Rapids. The restoration project will:
Permanently secure a historic building of state and national significance.
Enable Ferris State, the state's fastest-growing university, to deepen its presence in West Michigan.
Enable Kendall College to accommodate its growing student enrollment, which has tripled in the past 10 years.
Strengthen the region's ability to grow the number of college graduates, a key indicator of success in the global knowledge economy.
Accelerate the revitalization of downtown Grand Rapids and, more specifically, the Division Avenue corridor, which continues to emerge as a hub for creativity, innovation and higher education in West Michigan.
Establish an estimated 200 construction jobs, as well as additional direct and spin-off jobs in the city of Grand Rapids.


"This is a remarkable and timely project for the city of Grand Rapids," said Mayor George Heartwell. "Through an innovative partnership of diverse interests, we will transform a building that had become a liability into an exceptional asset that contributes directly to the strength of our region's economy, culture and system of higher education. Working together, we have created a new life for this outstanding building."
The total cost of the project is approximately $28.5 million, which includes furniture and equipment. The deal, several years in the making, is made possible through a unique public-private partnership led by Ferris, Kendall, the city of Grand Rapids and the Christman Company.
Working closely with leadership at the state of Michigan and Kent County, the partners developed and secured a financing package that utilizes a mix of distinct funding options, including American Recovery and Reinvestment Act bonds, state Brownfield tax incentives and historic tax credits. Ferris and Kendall also will seek philanthropic support for the project.
Under the development agreement, the city of Grand Rapids will lease the building to Federal Building Partners, LLC, an entity created and controlled by the Christman Company, which will in turn lease the building to Ferris State University. Ownership of the building eventually will pass from the city to Ferris State University.
"This is a pioneering model of partnership even by West Michigan standards," said Jim Cash, executive vice president of Christman Company. "Christman is honored by the opportunity to restore this historic building and build yet another innovation engine for downtown Grand Rapids."
The renovated Federal Building will feature new spaces dedicated to, among other programs, three-dimensional art, ceramics, art history, metal sculpture and sustainable design, in addition to common areas for students and expanded office space for faculty. It will also house substantial space for exhibitions, lectures and other community gatherings.
"This new facility will enhance Kendall's ability to prepare graduates with the skills necessary to succeed in the 21st century workplace – original thinking, creative problem solving and effective leadership," said Oliver Evans, president of Kendall College of Art and Design. "It will also strengthen West Michigan's position on the cutting edge of innovative and relevant design."