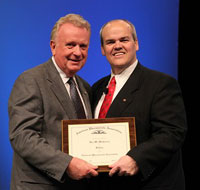 BIG RAPIDS – Dr. Ian W. Mathison of Big Rapids, dean and professor of medicinal chemistry of Ferris State University's College of Pharmacy since 1976, has been selected by The American Pharmacists Association as a fellow in its Academy of Pharmaceutical Research and Science.
Fellowship is conferred upon those members who have demonstrated progressive, exemplary service and achievements in his or her professional area through participation with the APhA academies and other national, state and local professional organizations.
Mathison, who also is a fellow of the Royal Pharmaceutical Society of Great Britain, earned Bachelor of Pharmacy, Doctor of Philosophy and Doctor of Science degrees from the University of London. His academic career has been hallmarked by numerous academic and professional awards and recognitions, and receipt of grant awards and patents for research endeavors on novel chemical structures for antiarrhythmic and antihypertensive activities.
He serves on a number of national advisory committees, is a consultant on the education of pharmacists and to the World Health Organization's Malaysian Ministry of Health, and is an external examiner of the University of Sains Pharmacy School in Penang, Malaysia.
To share his global understanding of the pharmacy profession with Ferris students, Mathison developed a student exchange program for seniors that enables reciprocal exchanges between Ferris and the University of Bath in England and the University of Angers in France.
The APhA, founded in 1852 as the American Pharmaceutical Association, represents more than 63,000 practicing pharmacists, pharmaceutical scientists, student pharmacists, pharmacy technicians and others interested in advancing the profession.
APhA, dedicated to helping pharmacists improve medication use and advance patient care, is the first-established and largest association of pharmacists in the United States. APhA members provide care in all practice settings, including community pharmacies, hospitals, long-term care facilities, managed care organizations, hospice settings and the uniformed services.