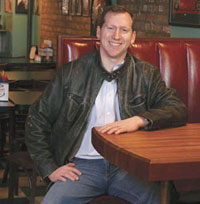 BIG RAPIDS – Inspired by his own experiences as a student at Ferris State University, the choice was easy for Derek Rettell and his wife to pay it forward by creating the Rettell Family Annual Scholarship.
It was at Ferris when Rettell was faced with a turning point in his young career.
Not a typical opportunity for freshmen, Rettell earned an internship at Marriott Marco Island, Fla. Having kicked off his career baking desserts out of his mom's kitchen at the age of 15, the required baking experience the internship required meant Rettell was just the man for the job.
"I was hooked," he said, adding he has professor emeritus Bill Garrison to thank. "At the time, he was running the Hospitality Management program and he was instrumental in making this opportunity happen."
From there, Rettell said he was more motivated than ever – doing well in school and working full-time to pay for his expenses. Along with working full-time, Rettell also earned scholarships along the way to help defray college costs.
"I was very fortunate to be able to make ends meet," he added. "Without this support, I may not have been able to finish my degree. I was given a great gift, and I want to make sure these opportunities are available for future students at Ferris State University."
Rettell, who earned a bachelor's degree in Hospitality Management in 1992, also stays involved at his alma matter serving on the Hospitality Management Advisory Board where he lends his business expertise to offer ideas on how students can get the most out of their Ferris education.
Through his company Rettell offers student internships, which he feels are integral to students' academic experience.
"Internships offer real-life experience and the ability to see what it takes to run a business," he said.
Rettell is pleased to work with the current coordinator of Hospitality programs Julie A. Doyle, who will help foster candidates for the scholarship because as Rettell notes, "It's not just about getting good grades. It's about being motivated and working hard in and out of the classroom," he said.
Added Doyle, "Derek is a successful alumnus and restaurant entrepreneur owning five successful establishments with his partner within the Chicago area. Derek returns to campus for our annual gala fund-raising event where he offers his industry expertise and guidance to our hospitality students. Our program is very fortunate to have an alumnus who cares as deeply about Ferris and the Hospitality Program to establish a scholarship for future restaurant entrepreneurs ."
For more information or to make a gift to the Rettell Family Annual Scholarship, please contact The Ferris Foundation at (231) 591-2365 or [email protected]. Details about establishing scholarships or endowments may be obtained from the Advancement Office at (231) 591-3825.