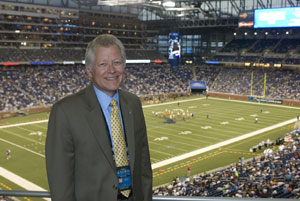 BIG RAPIDS – For the last 25 years, Tim Pendell has worked for the Detroit Lions, but has never forgotten his roots – including his seven years at Ferris State University, beginning in 1976, when he was hired as sports information director.
Pendell, who today serves as senior director of Community Affairs for the National Football League's Lions, smiled as he learned of the celebrations of Ferris' 125th anniversary. Having witnessed some of that history firsthand, he jumped at the chance to participate in the festivities and return to Big Rapids. As part of homecoming, Pendell served as host of "125 Years of Stories, What's Yours?" Event organizers welcomed members of the community, faculty, staff and students to share their favorite Ferris stories and memorabilia as part of the 125th celebration inside the historic Alumni Building Saturday, Oct. 10.
"It was an honor to be invited back and a big part of why it was such an honor is because my wife, Diann, and I haven't been back in a while since it's so tough for us to get away on weekends with games in Detroit with the Lions," said Pendell, who confesses he rarely travels without his wife – a marriage that will be in its 40th year in November. "It was such an honor to be over in the Alumni Building and so close to where my offices used to be in the West Building. It was great to go through some of the Ferris history that frankly I had never seen. We got a chance to see Woodbridge's old desk and things like that."
While he enjoyed the memorabilia, Pendell truly appreciated the stories, the men and women behind those stories and a chance to reconnect with old friends and others who appreciate the 125 years of Ferris and the periods they personally experienced. Historic memorabilia brought to the Alumni Building had context added to them as campus and local historians helped explain the stories behind the memorabilia to Pendell and others.
"We had a great time talking to the dozen to 15 or so people, and the people who just came by to say 'hi' was nice for both Diann and me," said Pendell, who worked at Ferris until 1983. "We talked to a gentleman who was 96 years old and remembered when it cost two cents toll to go from Hersey to Big Rapids. It was also nice to hear great stories from Bob Leach, Jack McNamara and Dean Davenport and the others who stopped by."
Seeing familiar faces added to the great memories Pendell enjoys from his seven years at what was then known as Ferris State College.
"It was a great seven years we had here. It was a learning experience for me coming back as part of this 125th celebration," said Pendell, who reflected on the great and legendary coaches he had a chance to work with such as Jim Wink, a Bulldog Athletics Hall of Famer, and Nick Coso. "I gave a little testimony. We thank Ferris so often for the opportunity it gives students, and that is so appropriate, but I also personally thank Ferris for the opportunity it gave me as an employee."
Pendell added. "I didn't know how to be a sports information director, I didn't know how to put a media guide together or run a press conference, but I learned under fire. I have to say the coaches, the staff were very, very patient."
After leaving Big Rapids and returning to Detroit, it was back to work for Pendell. His current duties center on strengthening the relationship between the Lions and local communities in the metropolitan Detroit area. Pendell also leads the franchise's non-profit charitable foundation – Detroit Lions Charities. Connecting the players, coaches and alumni of the Lions with local communities and helping them champion important causes make Pendell feel like a winner every day he comes to work.
"Every day is a new adventure. We're essentially the community outreach for the team with getting players out in the community and involved in different kinds of charities with schools and churches throughout the area. It has been very rewarding," he said. "As we know, the team hasn't been successful in recent years, but I get a win every time I get the chance to go out. I get to do so many great things that make a difference in the lives of so many people."