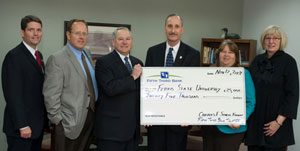 BIG RAPIDS – Ferris State University received the third of four $25,000 payments as part of a $100,000 grant from the Charles E. Schell Foundation. Fifth Third Bank serves as trustee to the Schell Foundation and bank representatives recently presented the check to the university.
Charles E. Schell established his trust in 1932 to provide interest-free loans to students who meet the following criteria: recipients must be from Michigan, Ohio, Kentucky, West Virginia or adjacent states; have at least a 2.0 grade point average; and demonstrate loyalty to the United States.
The grant award was secured by Ferris Investments and Grants Officer Karen Thompson, in conjunction with Carla Miller, associate vice president for Advancement at Ferris. Ferris received the first installment of $25,000 in November 2007. The final installment will be received in November 2010.
Thompson notes the grant award is one of many university-wide efforts to establish additional financial aid resources for students. Through Schell's generosity and vision, many students have been able to pursue what Schell called a "practical education," Thompson added.
"In this time of economic challenge in the state of Michigan, we are hearing from more students in need of financial assistance," said Jerry Scoby, Ferris vice president for Administration and Finance. "We greatly appreciate this grant from the Charles E. Schell Foundation to assist our students in obtaining an outstanding education from Ferris State University."
Although the loans are interest free, students will be required to sign a promissory note to repay their loans so future students can benefit from the loan fund, Thompson said. There are 17 students who have benefited from the first two installments of this grant award.
Students interested in this loan or other forms of financial aid, should contact the Financial Aid Office at (231) 591-2110.