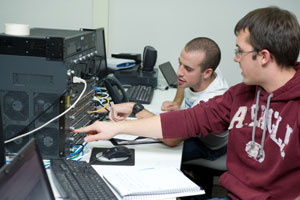 BIG RAPIDS – Students in Ferris State University's Computer Networks and Systems program will have hands-on learning opportunities with Cisco Catalyst 4006 Series software thanks to a donation by ISI of Grand Rapids.
The software will give students an opportunity to design and implement Voice over Internet Protocol (VoIP) networks just as they would in the real-world scenarios, said Keith Jewett, Ferris CNS associate professor. Students learn how to design networks between cities or coast-to-coast and then follow through with testing to ensure the systems operate effectively.
"This donation of Cisco Catalyst 4006 Series software will provide students with real-world experiences that allow them to hit the ground running upon graduation," Jewett added.
Installed this fall, the software donation was made possible by Thomas Bryant (CNS '08), who is a systems engineer with ISI.
"Having access to the latest voice-related equipment is imperative to students' success," Bryant said. "I wanted to make sure current and future students have access to the latest, state-of-the-art software used in the industry."
College of Engineering Technology Dean Tom Oldfield added, "The partnerships Ferris develops with its alumni who are leaders in business and industry is a relationship we'll continue to foster. It's a win-win situation for everyone."
ISI is a small, family-owned business that is a Microsoft Gold Certified Partner, Microsoft Small Business Specialist, and Cisco Premier Certified Partner, and has teamed up with companies like HP, Microsoft, IBM, Cisco and more to provide its customers a full array of products.
For more information or to make a gift to the university, please contact The Ferris Foundation at (231) 591-2365 or [email protected]. Details about establishing scholarships or endowments may be obtained from the Advancement Office at (231) 591-3825.