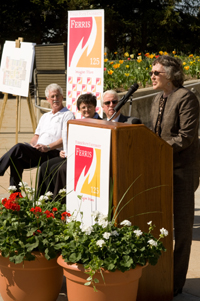 BIG RAPIDS – A vision became reality Friday, May 8, when Ferris State University broke ground for the new facility which will house its Michigan College of Optometry/Center for Collaborative Health Education.
After receiving state funding in the fall of 2008 and selecting Neumann/Smith Architecture of Southfield, Mich., to design and build the new facility, Ferris kicked off the construction phase with a ceremonial groundbreaking at 10:30 a.m. The groundbreaking was held at the corner of State Street and Ferris Drive, where the new facility will be built. Joining Ferris for the celebration was Ferris Board of Trustees Chair James K. Haveman Jr., Sen. Michelle McManus (R-Lake Leelanau) and Rep. Darwin Booher (R-Evart).
"The MCO family has dreamed of a new building for more than 15 years," said Dr. Nancy Peterson-Klein, acting dean of the MCO at Ferris. "We are extremely grateful to all those who have helped us secure funding for our building, and we look forward to our continued success in realizing our vision of graduating outstanding healthcare providers of tomorrow."
Specifically, the new facility will feature a ground-floor eye and vision care clinic offering clinical training for optometry interns and optometric/medical eye care to area residents; optical and contact lens dispensary where student interns receive practical hands-on training in the fitting of optical devices; a laser surgery room for staff ophthalmologists allowing student interns to gain experience on campus in the handling of pre- and post-operative care of patients undergoing eye surgery; classrooms, laboratories and faculty/administrative offices; distance-learning facilities; research laboratories; and an Optometric Center for Lifelong Learning and Competency for the continuing education of MCO/FSU graduates.
"The new facility will be a tremendous asset in meeting MCO's goal of educating students to become successful optometrists," Ferris President David Eisler said. "Not only will a modern facility attract the best and brightest students and faculty from across the U.S., but it will provide patients with a more comfortable health-care environment," he added.
It is anticipated the facility will increase current patient encounters in the eye and vision care clinic of more than 19,450 annually by at least 10,000 per year with a ground floor, re-designed clinic.
"The new facility will establish the Michigan College of Optometry as the leader in the education of clinical optometrists," said Chad Linsley, who will graduate with an Optometry degree from Ferris in 2010. "A first-class building will continue to attract top faculty and provide the best possible care for our patients."
Neumann/Smith plans to build the estimated 87,000-square-foot modern health-care facility next to the College of Allied Health Sciences, to create an educational synergy within the health sciences complex of Optometry, Pharmacy and Allied Health Sciences at Ferris.
Funding for the development, which has a total projected cost of $26.9 million, will include a combination of sources, including the state of Michigan providing 75 percent of that cost, or $20,175,000. Ferris is responsible for raising the remaining 25 percent, or $6,725,000. To date, more than $1,356,000 has been pledged to or raised by the university for the new facility, including a $1 million gift from the Dow Foundation.