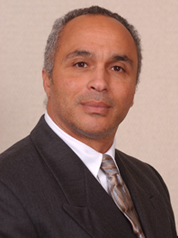 BIG RAPIDS - "Them: Images of Separation" will bring the reality of Ferris State University's Jim Crow Museum of Racist Memorabilia to Grand Rapids.
The traveling exhibit will be on display at the Fountain Street Church in Grand Rapids on Wednesday (March 4) at 6 p.m. Among highlights of the grand opening and reception will be a lecture from Dr. David Pilgrim, chief diversity officer at Ferris and founder of the Jim Crow Museum of Racist Memorabilia.
According to Pilgrim, individuals affiliated with the Fountain Street Church had an opportunity to visit the Jim Crow Museum, on Ferris' main campus in Big Rapids, and felt moved enough by the exhibits to want to bring a little of the museum to Grand Rapids.
"They came up here several months back to visit the Jim Crow Museum, and many of them thought it might be a good idea if we could bring one of our traveling exhibits to Grand Rapids," Pilgrim said. "We actually have two traveling exhibits. One of our traveling exhibits is 'Hateful Things' and the other one, the one we're bringing to Grand Rapids, is 'Them: Images of Separation.'"
Pilgrim felt "Them: Images of Separation" would be an ideal exhibit for the audience event organizers expect in Grand Rapids.
"This particular exhibit deals with a lot of groups and makes more sense because of the diversity of the church," he said. "We're going to go all out with this discussion and talk about racism, sexism, homophobia and all the 'isms' we have out there. We're working to get people talking about the issues to create a dialog we hope will be effective in bringing us all together."
Thanks to some generous sponsorship, from "a foundation or two," Pilgrim announced that the event will be free of charge. All proceeds from the event go to the Jim Crow Museum's building fund to establish a permanent home.
There are additional lectures that will take place as part of the exhibition on Sundays throughout the month of March from 9:45 to 10:45 a.m. Ferris professor Tony Baker began on March 1 with a lecture on overcoming the consequences of imaginary boundaries. On March 29, Kendall College of Art and Design Professor of Art History Suzanne Eberle will host the presentation "The 'Other' in Art." Eberle's presentation centers on how contemporary artists challenge us to become aware of the "other" in our lives.