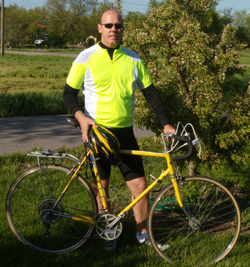 BIG RAPIDS – Reaching a personal goal is one thing, but doing something that benefits others is something truly special.
Troy Tissue, associate director of Admissions and Records at Ferris State University, had an opportunity to achieve a personal goal and raise funds to help students remain in college and on track toward an academic degree. Tissue's participation in the National 24-Hour Challenge helped raise approximately $2,000, through more than 40 pledges to benefit "Ferris Cares," a scholarship initiative created this spring to assist students who may not be able to attend college or may consider not returning to school due to financial hardship.
"Ferris Cares is a great cause when you consider the way our economy is right now, and this is a great way of doing something to help students continue to pursue their dreams of a college education," said Tissue, who launched a Web site to help spread the word about the race and his goal of raising money for the "Ferris Cares" Scholarship. "Ferris has an awesome heritage and a big part of that heritage is working to make education possible for people. 'Ferris Cares' is part of that mission that continues as we celebrate the 125th anniversary of the university."
The National 24-Hour Challenge was June 20 in Middleville. Tissue, of Hudsonville, had previous experience in the cycling race in 1990 as he marked 115 miles. That memory helped set the stage for the former Navyman to accept the challenge again, this year, with lofty goals of biking 200 miles and raising money to benefit students. In the end, Tissue achieved both goals as he cycled 205 miles.
"It was personally gratifying for me, but it was even more enjoyable for me knowing that this is something that's going to benefit students at Ferris," Tissue said. "I know there were a lot of people out there who felt good about making pledges to benefit students. This was one of those ways where the Ferris family came together. There were contributions from all over campus, including faculty, administration and staff."
Tissue says support came from all over the country as he cited pledges from California, Washington, D.C., and New Orleans. He emphasized that some of those individuals were not Ferris alums and did not necessarily have any direct ties to the university.
"Some of these individuals were friends and acquaintances who heard about what I was doing and wanted to do something to contribute. That, to me, was very encouraging," he added.
For more information, or to make a gift to "Ferris Cares" or [email protected], contact The Ferris Foundation at (231) 591-2365 or visit www.ferris.edu/foundation. Details about establishing scholarships or endowments may be obtained from the Advancement Office at (231) 591-3825.