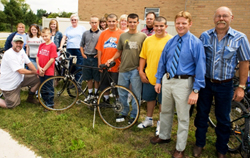 BIG RAPIDS – There is an old saying that goes, "one man's trash is another man's treasure."
Each year, as students return home for the summer, dozens of bicycles are abandoned around Ferris State University's campus. In past years, leftover bicycles were sold at auction. In more recent years, Ferris has decided these bicycles can serve a greater good for underprivileged local kids. So, this year, the Department of Public Safety donated approximately 60 bicycles to Muskegon River Valley Big Brothers Big Sisters and local foster care facilities in a gesture that will bring smiles to the faces of dozens of area youth.
"We're really the conduit that helps get these bikes to people who would love to have them," said Marty Bledsoe, director of Ferris' Department of Public Safety. "We'd love to have owners of these bikes take possession of them, but we recognize that's not always the case with these bikes. We decided that we could donate these bikes, they could be fixed up and then go to people in need.
"Donating these bicycles is something we felt would be more heartfelt than simply auctioning them off," Bledsoe added.
On July 23, DPS opened its storage area to donate the recovered bicycles that ultimately will go to local kids after repairs thanks to the efforts of local organizations.
"A lot of these kids live below the poverty level and for them to be able to receive a bike is an awesome feeling," said Aloma Jean Grein, executive director of Muskegon River Valley Big Brothers Big Sisters, an organization based in Big Rapids and serving an area that includes Mecosta and Osceola counties.
Grein's words were echoed by Mike Wicke of Evart-based Wicke's Specialized Foster Care and Respite Care. Wicke, currently hosting seven foster kids, was appreciative of the bicycle donation and summed up the feelings of the kids and their families.
"These kids can't afford to go buy a bike and that is a big part of what makes this such a great opportunity for them," said Wicke, who acknowledged there are approximately 40 to 50 foster kids in the area and that many of them would love the opportunity to have a bicycle. "This is like Christmas for them."
Kids were all smiles as they helped load bicycles into vehicles to be transported one step closer to being in the possession of even more eager kids.
"We appreciate Ferris Public Safety for doing something like this that will give so many kids something to feel happy about," said Grein, who took possession of 24 bikes her organization will distribute to kids. "One person's trash is another person's treasure and I think, for these kids, these bikes will be a treasure."