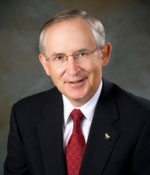 BIG RAPIDS - Ferris State University President David Eisler presented testimony to the Michigan State House of Representatives Appropriations Subcommittee on Higher Education at their meeting Monday (Feb. 23) on the campus of Western Michigan University in Kalamazoo. Also testifying at the meeting were President John Dunn of WMU, and representatives of Michigan State University's Extension Service and Agricultural Experiment Station.
Eisler emphasized Ferris' strong enrollment -- accounting for 29 percent of all public higher education enrollment growth in the state since 2001 -- and how the University has kept the cost of attending the school below the Consumer Price Index despite decreased state funding.
"Over the past years costs have increased approximately 2.9 percent annually at Ferris, which is below the rate of inflation," Eisler said. "While doing this we have absorbed the $37.5 million that the state did not fund our students, and have at the same time become the fastest-growing public university in Michigan."
The meeting took place just as debate was intensifying over how to spend federal stimulus funds in the state, and about the merits of a tuition freeze proposed by Gov. Jennifer Granholm. Eisler stressed that these two issues were related. He urged the lawmakers not to simply use the stimulus money to backfill existing deficits, and also not to tie the hands of university presidents by freezing tuition. The governor's proposed 3 percent reduction in higher education spending would result in a $1.6 million reduction to Ferris. However, that number would grow to as much as $9 million when paired with a tuition freeze.
"I understand that for many Michigan citizens working hard to make ends meet and to put themselves or a family member through college, a freeze is going to sound at first blush, and even at second blush, like a good proposal," said Eisler. "However, it would force deep cuts at precisely the time we should be aggressively re-educating our people and creating programs that fuel new economic initiatives in Michigan."
Eisler also expressed his concern that a tuition freeze would result in higher tuition costs in the future, rather than having those costs being contained through manageable year-to-year increases. He assured the subcommittee members that Ferris would continue to show restraint in setting tuition levels, even while dealing with such mandated costs as contributions to the Michigan Public School Employees Retirements System or MPSERS.
He also urged lawmakers to preserve funds for the King-Chavez-Parks Initiative, which provides funding to help students from disadvantaged communities earn college degrees.
"At Ferris this is not a large amount of funding, slightly more than $100,000, but it is an important symbol of hope for those who have not in the past had access to education," said Eisler, who also urged the legislators to make their budget decisions by July 1 to help Michigan universities and their students make plans in a difficult economic period.
Leading up to the subcommittee testimony, Eisler held two "Food for Thought" sessions on the Big Rapids campus to communicate to the Ferris community the University's budget situation, and to have a conversation about ways to best keep Ferris on a path to further grow enrollment at its main campus, in Grand Rapids and at locations across the state.