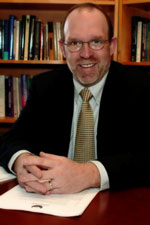 BIG RAPIDS – Former Michigan resident Fritz J. Erickson, dean of the College of Professional and Graduate Studies at the University of Wisconsin-Green Bay, has been named provost and vice president for Academic Affairs at Ferris State University. His appointment is effective July 1.
Erickson brings more than 25 years of administrative experience in higher education to Ferris, having spent the last six years at UW-Green Bay, a campus of more than 6,200 students and 330 faculty.
Ferris President David L. Eisler said, "Dr. Erickson brings an exceptional background of experience and accomplishment to our University. In addition to his leadership work at the university level, he has been very successful in securing grant support for cooperative international projects, diversity efforts and in encouraging student educational success."
At UW-Green Bay, Erickson oversees undergraduate programs in Business, Teacher Education, Social Work, Nursing and Physical Education, as well as four on- and off-campus master's degree programs. His area of responsibility extends to The Institute for Research, a campus resource for faculty who seek outside funding to support their scholarly and creative activities.
Erickson's outreach activities include directing The Institute for Learning Partnership, where secondary and post-secondary educators, and businesses and local community leaders collaborate to improve learning for students in grades PK-16. He also leads The NEW Partnership for Children and Families, which provides training programs to child care workers and Indian tribes in the region.
"I have been a dean for nine years and the opportunity to expand my interests and serve as a provost, particularly at Ferris, has great appeal. Ferris' unique combination of professional and liberal arts programming is a real fit for me along with the opportunity to work with multiple location programming. I also look forward to working in a collective bargaining environment, again because I have been on each side of the table and believe it can work for all," Erickson said.
"Our family is very excited about Ferris and plans to relocate to Big Rapids as soon as possible. We look forward to strengthening our ties with a number of relatives in the Kalamazoo, Grand Rapids and Muskegon areas, as well as spending more time at our family home in Arcadia," he added.
Erickson has special interest in education reform and has worked on projects to engage public higher education in Pakistan, Jordan and other countries in the Middle East. He also is passionate about promoting safe and effective learning environments for all students, having written more than 50 texts on educational subjects and technology.
He is founding president of the National Alternative Education Association and has chaired the Joint National Conference on Alternatives to Suspension, Expulsion and Dropping Out of School. He frequently presents on the topic of cyber-bullying and the impact on children and families.
Prior to joining UW-Green Bay in 2003, Erickson was dean of the College of Education and Human Development at Eastern Washington University; chair and professor of Education and Psychology at Michigan Technological University; and senior educational consultant for the Colorado Department of Education.
He taught for more than 10 years at Millersville University of Pennsylvania, and before that was an elementary, middle school and community college teacher.
Erickson completed his bachelor's degree at Western Michigan and master's and doctorate at the University of Northern Colorado with an emphasis on Educational Psychology, Technology and Research Methodology.
He and his wife, Jan, formerly of Saginaw, have two children, Jenna, a high school senior who plans to attend University of Wisconsin-La Crosse in the fall, and John, a junior in high school. Both are musicians and active in sports.