B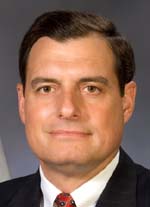 etro's West Michigan visit highlights a daylong series of events that include leading a discussion on the latest developments in cybercrime with local law enforcement officers and an evening presentation and question-and-answer session with students and community members at 6 p.m. in the Grand Rapids Community College Applied Technology Center Auditorium. Betro also is scheduled to lead a presentation and discussion about education and careers in security and intelligence with criminal justice students from the Kent Career Technical Center at noon.
This Ferris-hosted event is part of a unique series organizers hope will bring more speakers to the area to share their knowledge and experiences with students, local professionals and residents.
"The Distinguished Speaker Series will regularly host senior-level professionals in the areas of information security, intelligence, homeland security, and law enforcement to address students and local residents on cutting edge issues and topics, as well as information on career opportunities in government and the private sector," said Bob Ewigleben, coordinator of the Information Security and Intelligence program at Ferris.
Betro is the senior official responsible for criminal, counterintelligence and counterterrorism investigations and related operations within the Department of the Navy. NCIS is comprised of more than 2,400 personnel in 32 countries and 160 locations worldwide. They work closely with local, state, federal and foreign agencies to counter and investigate the most serious crimes: terrorism, espionage, computer intrusion, homicide, rape, child abuse, arson, fraud and more.
For more information, contact Ewigleben at (616) 643-5729 or robertewigleben@ferris.edu.
23 April, 2009