West Michigan English Language Institute Coordinator
by Amy Hughes - July 25, 2014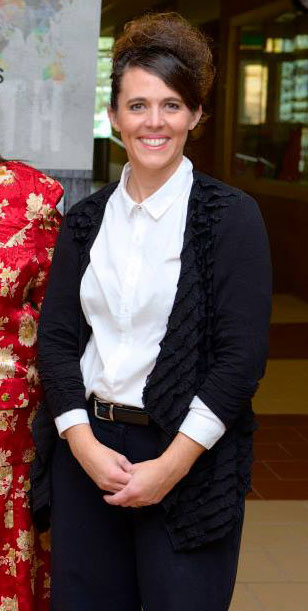 What Lisa vonReichbauer appreciates most about Ferris State University is that so many people are dedicated to diversifying the campus. She believes that this is done by fostering an environment in which members of the campus community can learn to recognize, appreciate and respect experiences, thoughts and qualities that are different from their own.
vonReichbauer came to Ferris in 2011 and was excited about the University's vision for globalizing the campus and the curriculum. International recruiting and admissions, international student and immigration services, the Center for Global Studies and Engagement, Education Abroad, and intensive English courses from the West Michigan English Language Institute were brought together in the Office of International Education. This new structure blended the key components necessary to build a strong and sustainable international program.
As coordinator of the WMELI, vonReichbauer oversees intensive English efforts in OIE. She also works with international admissions and student services.
"The West Michigan English Language Institute provides opportunities for students to improve their English language skills, advance to academic programs and achieve their career goals at Ferris," vonReichbauer said. "We strive to provide the best learning environment for students by creating an excellent program that continues to self-assess, improve and grow."
vonReichbauer believes that international programming is vital to Ferris' core value of diversity. She is passionate about this core value and finds her work to be extremely rewarding.
"By bringing more international students to campus and providing support to help them successfully integrate into the campus community, both international students and domestic students will have opportunities to learn about other cultures, different ways of thinking and different ways of doing things," vonReichbauer said. "I hope this helps our international students feel that they are an integral part of the Ferris community and I hope it inspires more of our domestic students to study abroad."
Ferris' international experience has been strengthened through a program called "My Program" for Language and Cultural Exchange. Students who are native English speakers work in teams with Intensive English Program students. Members of the team work together to learn about each other's cultures while practicing language and academic skills.
MyPLACE gives the IEP students the chance to practice their language skills, make friends and integrate successfully into life at Ferris. The native speakers who participate in the program can apply for an Education Abroad scholarship to subsidize the cost of studying abroad. The program not only helps with financial support, but also gives the students a jump start on the process of increasing cultural awareness.
"We now have the largest international student enrollment in the history of Ferris with more than 430 students," vonReichbauer said. "True diversity will help us graduate students that contribute to the building of strong, ethical communities as responsible global citizens."
With the help of vonReichbauer and the Office of International Education, the international student population at Ferris is likely to continue to increase.
Amy Hughes is a News Services student writer in University Advancement and Marketing.
For others featured in the Faces of Ferris series, visit:
https://ferris.edu/HTMLS/news/faces/