Men's Basketball Student-Athlete
by Samantha Bankey - July 1, 2013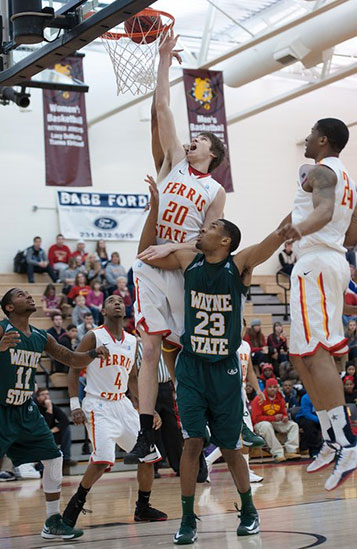 When Jared Stolicker began his education at Ferris State University in 2011, he saw sunshine where others might have seen cloudy skies.
Stolicker, who just completed his sophomore year, came to Ferris as a basketball recruit from Thornapple-Kellogg High School in Middleville. He decided that becoming a Bulldog would better his basketball skills as well as meet his professional goals as a Business Administration major.
"I thought coming to Ferris would give me the best overall experience," said the 6-foot-10-inch center. "Ferris has a good business program, and I've been interested in business and working with people my whole life."
Stolicker loves the game and averaged 15.8 points with 15.8 rebounds per game during his high school days. He was redshirted by the Bulldogs during the 2011-12 season.
"My freshman year was a really hard transition for me," he said. "The academic work was a lot harder and so was basketball – the game was a lot faster paced, and all the players were a lot bigger. It's hard being a redshirt, because you lack the motivation to play every day knowing that you're just going to practice and sit out. It's a disappointing feeling."
Although No. 20 was discouraged, Stolicker knew he would only improve. He took it upon himself to work hard every day and gained 35 pounds so he could be more of a force on the court.
Now, he is a force to be reckoned with. During the 2012-13 season, Stolicker played in all 27 games and started in 19, averaging 20 minutes per matchup. The Bulldogs wrapped up their season with a 14-13 overall record and reached the GLIAC Postseason Tournament for the eighth time in the last nine years, one of the conference's top showings over the past decade.
"There is a silver lining to being redshirted, even though it's hard to go through at first," he said. "Knowing what I went through, I can help my future redshirted teammates by keeping them on the right track and helping them not get discouraged."
Although he towers over the rest of his teammates, it's Stolicker's attitude about seeking opportunity that will help him reach new heights during his college career.
Samantha Bankey was a News Services student writer in University Advancement and Marketing.
For others featured in the Faces of Ferris series, visit:
https://ferris.edu/HTMLS/news/faces/