Center for Leadership, Activities and Career Services Director
by Carman Plank - Sept. 13, 2013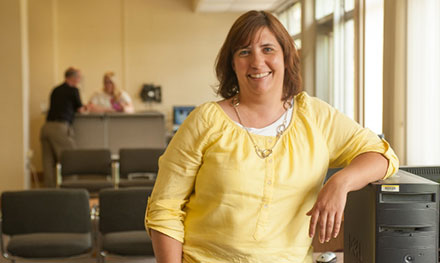 Angela Roman has always had a passion for career development and helping people find the jobs and opportunities they want and deserve.
The Reed City, Mich. native's connection to Ferris began when she enrolled as a student after high school and earned an associate degree in Child Development in 1996. She taught at a Head Start child development program before returning to Ferris to continue her education. She earned a Bachelor of Social Work in 2003 and a master's degree in Business Administration in 2012.
When Roman returned to Ferris, she got involved on campus by joining Phi Alpha, the social work program's honor society. She became president of the organization, which she credits with helping her grow as a person as well as learning the importance of being involved on campus.
"This is where I realized that I like bringing people together for a common goal," Roman said. "It made me realize the true impact of participating in a student organization."
While attending Ferris, Roman was hired at Michigan Works, a workforce service center, as an employment services specialist. That is where she discovered her true passion of matching people with careers, she said. She gained valuable experience working with Michigan Works' Prisoner Re-entry Program and with the unemployed.
"The next step was to find a management position," she said. "So, that is what brought me back to Ferris to apply."
Roman was hired as coordinator of Career Services and charged with helping students prepare for life after graduation. The office offers self-assessment and exploration opportunities, skill development , marketing and performance guidance.
"That's why I picked Ferris," Roman said. "It is very career-oriented."
In May, Career Services merged with the Student, Leadership and Activities office to form the Center for Leadership, Activities and Career Services to give students even better opportunities to develop leadership characteristics future employers are seeking. Roman is excited about the reorganization and can't wait introduce some of the office's new programming and activities.
"My passion is to make sure Ferris produces students who have very successful careers," she said. "It made sense to assist students who are already participating outside of the classroom to use those experiences to market themselves to a potential employer."
The new center is temporarily located on the terrace floor of Helen Ferris Hall. It will be permanently located in the new University Center, slated for completion by December 2014.
When she is not training staff and doing team building, Roman enjoys bringing her family to events that Entertainment Unlimited, the campus programming board, brings to campus.
"I enjoy that Ferris always has something to do, whether you are a student or a community member."


Carman Plank is a News Services student writer in University Advancement and Marketing.
For others featured in the Faces of Ferris series, visit:
https://ferris.edu/HTMLS/news/faces/