All-American
by Sandy Gholston - December 11, 2009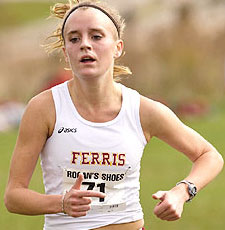 Ferris State University's Tina Muir is hardly your typical All-American student-athlete.
It's not that Tina doesn't embody the spirit of the true student-athlete – she does.
A native of St. Albans in the United Kingdom, Tina came to a new country and a new university – a real-life example of Ferris State University's mission of opportunity – motivated to work for excellence as a student-athlete. Tina capitalized on an opportunity Ferris offered and, in a few short years, has in many ways come to symbolize the vision of the hard-working student, majoring in Recreation Leadership & Management, and the high-achieving athlete as she has developed into one of the nation's premier NCAA Division II distance runners. Tina's status as a top collegiate student-athlete is proven by her history as a two-time cross country All-American.
Tina has been the poster model for excellence almost from day one in the crimson and gold colors of Ferris. For many competitors, that initial taste of success satisfies the hunger. For a select few, however, that initial success only intensifies an appetite for greater success in the pursuit of excellence. You can count Tina among the rare student-athletes who relentlessly pursue athletic excellence. In a relatively short period of time, the British standout has emerged as one of Ferris' all-time great cross country runners.
"Last year, when I was going into the national championships, I felt ready to race and really fit. My result showed me that I was right and I was very proud of my achievement," said Tina, who was named United States Track and Field/Cross Country Coaches Association Division II Midwest Region Women's Athlete of the Year after she won the regional individual title with a time of 21:33.2. "This year, I felt even stronger, both physically and mentally. I really pushed myself to the limit this year in practice by working out with some of the guys on the team so that I could give myself the best opportunity to finish as high up as I possibly can and so far it has really paid off."
Tina has indeed pushed herself as a student-athlete for Ferris.
For the second consecutive fall season Tina proved her worth as she earned 2009 NCAA Division II All-America honors from the USTFCCCA. The All-America award resulted from her 12th-place finish at the NCAA Division II National Championships last November in Evansville, Ind. It was the second consecutive season she earned a 12th-place finish at nationals as she tied for the second-highest finish in Ferris history.
Competing as a cross country runner for FSU head coach Steve Picucci has been both a blessing and a joy for Tina and her teammates. Picucci challenges Tina and her fellow runners, but also emphasizes pace and the importance of peaking at the right time of the season. This tough, but measured approach has paid dividends for a women's cross country program that seems to grow stronger and more stable with each passing season.
"Steve hasn't really allowed me to reduce my mileage or intensity in practice until now and we planned it from the start of the summer so that I would peak for nationals," Muir said. "I am very excited to see what I can do as I have surprised myself with how well I have raced throughout the season without really resting at all."
Tina has been a big part of that as she has taken the leadership mantle from former teammates like Mikinzie Stuart and others who set the tone when Tina was a younger competitor as a freshman and a sophomore.
"I am stronger and fitter than I have ever been in my life and it is a great feeling, although I'm not putting pressure on myself to finish in a certain place as I just want to go into this race with the same mentality as the other races by giving it my all and feeling proud of myself at the end of it," added Tina, a native of St. Albans in the United Kingdom, who returned home during Thanksgiving break and finished eighth in the 8.1K under-23 division of the European trials in Liverpool (Nov. 28).
The true competitor in Tina Muir doesn't mind the tough conditions that are all too prevalent in the northern region of the United States. For her, it's just like running at home in the UK. Tina is pretty much accustomed to challenges and thrives in pursuit of excellence – even in less-than-ideal conditions.
Muir has recently added to her impressive list of awards by being selected as one of this fall's 12 recipients of the prestigious Great Lakes Intercollegiate Athletic Conference (GLIAC) Commissioner's Award sponsored by Meijer, Inc.
The GLIAC Commissioner's Awards are presented following the conclusion of the fall, winter and spring seasons to six deserving female and male winners each based on those who excel both in the classroom and on the field of play.