Ferris State University Graduate, University of Michigan Coach
by Sandy Gholston - September 11, 2009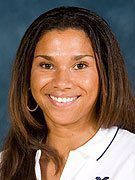 When opportunity knocked, Tianna Kirkland soon realized she found a new home away from home when she left the Flint area for a new frontier at Ferris State University in 1997.
Twelve years ago, Kirkland was a freshman at Ferris with a clean slate and ample opportunity to prove herself as a student-athlete. By the time everything was said, done and written about her time as a Bulldog student-athlete, the list of accomplishments were impressive. Kirkland, who arrived as a basketball player with raw physical talent and skills, worked hard to mold herself into a polished player who became an All-American on the basketball court (the first in the history of the women's program). She was also a three-time All-American in track and field (shot put and discus) as a Bulldog.
Most importantly, Kirkland also left Ferris, in 2002, with a bachelor's degree in Applied Biology.
Opportunity at Ferris led to excellence in Big Rapids and in the real world.
"It was such a great part of my life when I look back on the time that I spent at Ferris and how I grew up and learned so many things while I was there," says Kirkland, who currently serves as an assistant women's basketball coach at the University of Michigan under head coach Kevin Borseth.
In recognition of her outstanding accomplishments in basketball, and the hard work that helped her make the most of her opportunity, the Ferris women's basketball program retired Kirkland's No. 42 basketball jersey — an historic moment she shared with Lucy (DeMartin) Prior, who had her No. 23 jersey retired at the same time. For Kirkland, such a rare honor left her swelling with emotion and pride as she took another opportunity to reflect upon so much of what happened during her time at Ferris.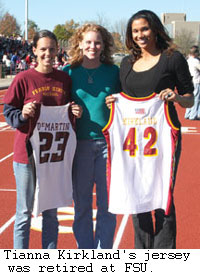 "Ferris has given me so much," said the 6-foot-1 Kirkland. "I'll never forget the time I spent there and how the people at Ferris got me started in my career."
The journey to success continued for Kirkland as her basketball coaching career took off at the Division I level. She gained experience as a graduate assistant at Central Michigan University; she served as an assistant at Butler University; and later became an assistant at Eastern Michigan University. Her big break in coaching came after Borseth earned the head coaching position at U-M in April of 2007. Borseth quickly added associate head coach Dawn Plitzuweit, who played for him at Michigan Tech University and coached Grand Valley State University to a Division II national championship (2005-06); and her top assistant with the Lakers, Mike Williams, as an assistant.
As the staff thought of who might be another good fit for the Wolverines, Tianna Kirkland's name soon came up.
Again, when opportunity knocked, a well-prepared Kirkland was ready.
Today, Kirkland is entering her third year on the Michigan women's basketball staff. On the strength of seven years of experience as a Division I assistant, she is heavily involved in the U-M program including on-court coaching and recruiting.
For Kirkland, today's success started with capitalizing on her opportunity at Ferris State University. As a teenager, she took a leap of faith that since has put her on the fast track to success as a Division I college basketball coach in adulthood.