Head Softball Coach
by John Smith - March 8, 2016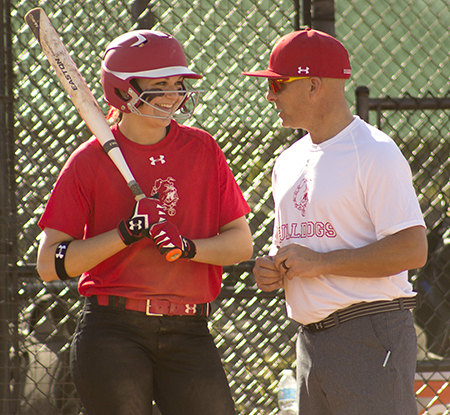 If the first half of the 2016 spring trip is any indication, Ferris State University Softball Head Coach Wally King is making the most of his opportunity to develop a winning mindset among his Bulldog softball players.
Ferris' softball teams won at least 24 games each season from 2004 to 2013, which included five NCAA Division II tournament appearances, since 2005. After a 13-20 mark in 2014, where more than a third of the schedule was wiped out due to rough spring weather, and a 16-36 record in 2015, King was hired to restore the softball program's successful tradition. Heading into play on Tuesday, March 8, King's team was 10-4, with eight games remaining on its Florida trip.
King played baseball at Hope College in Holland, Mich., and was a championship-caliber center fielder in fastpitch softball for nearly 20 years, while developing his coaching skills at the high school, community college and collegiate levels. Before returning to Michigan to serve as national director of coach and player development at Diamonds Sports Training in Grand Rapids, Mich., King had been associate head coach at the NCAA Division I level for Syracuse University, in New York. The Orange made the NCAA tournament from 2010-12, with a regional finals appearance, in 2012.
"I gained a ton of experience, playing with some of the best players in the world," King said. "I feel I've always been a student of the game, and I've brought that experience and knowledge to my coaching. In the college game, I have been with head coaches who have allowed me to do things, and do them well. I aspired to be a head coach, to put a stamp on a program."
King joined the Ferris Athletics Department in August 2015, and brought in one of his star players at Syracuse, Jasmine Watson, to be his assistant. Adam Kirkpatrick is the team's pitching coach, and works with Bulldog players on their strength and conditioning.
"It's exciting to be able to do what is necessary to build a staff," King said. "My people are tremendous, and I give them a lot of leeway to make decisions on the fly. I will give them the opportunity to succeed."
King and his coaches went to work as the academic year began, with a great deal of conditioning and team meetings intended to help his players grow and succeed.
"We have to expand our capabilities from the beginning, to work, and make mistakes daily," King said. "We do this in order to improve and push ourselves, physically and emotionally, and we have seen ourselves grow. We have changed the speed of doing things, and are doing a lot of teaching."
King comes to Ferris with a longstanding reputation for excellence as a hitting and infield coach, with success as a coach of individual player and team coaching. The 2016 team includes 12 letter-winners and six players in King's first recruiting class, and the upperclassmen told the coaching staff the work done in the preseason has been their best experience since joining Ferris' program.
"They were looking forward to the season and had been very accepting of the changes," King said. "In our six months, we have learned a lot about our players, it has helped us be at a better level going south than we may have expected. We will use our time in Florida to develop the lineup we will put to use coming north."
King said the team headed south with high hopes, both for his first-year staff and the four Bulldog players who are in their final season taking the field.
"They are trying to help us grow, to get to where we want to be," King said. "We're trying to train up all our players, and give them the opportunity during the Florida trip to determine our top nine to 10 players. We need everyone to work hard to contribute to our growth and success."

Mild late-winter conditions may benefit King's prospects for the Bulldogs to host Davenport University in a doubleheader on Tuesday, March 22, their first home date on the 2016 schedule.

PHOTO CAPTION: Wally King became the 11th head softball coach at Ferris State University on Aug. 5, 2015. It is his first opportunity to lead a program at the collegiate level. Coach King is pictured speaking to freshman Alexis Hongisto, of Gladstone, Mich.
John Smith is the communications specialist for News Services and Social Media in University Advancement and Marketing.

For others featured in the Faces of Ferris series, visit:
https://ferris.edu/HTMLS/news/faces/