Defensive Coordinator, Football Team
by John Smith - Aug. 12, 2019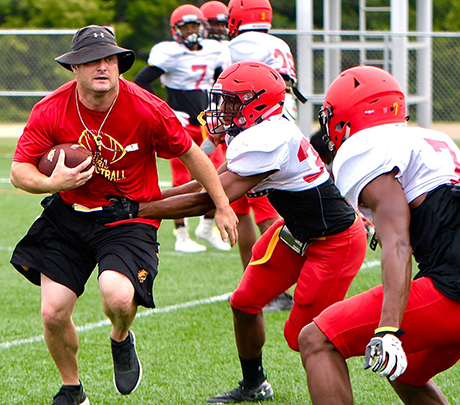 The excellent level of success offered by Ferris State University's football team in the last seven seasons has made other college programs watchful, and active in their attempts to emulate those achievements.
Ferris alumnus Ryan Hodges, who returned to the Ewigleben Sports Complex in 2012 as part of head coach Tony Annese's staff, learned days before the start of 2019's spring practices that he would serve as the Bulldogs' defensive coordinator on his own. His former co-coordinator Ryan Brady left the program to become head coach at Saginaw Valley State.
"Coach Brady and I had a decade of working together with Coach Annese from our days at Grand Rapids Community College then on to Ferris," Hodges said. "For four of the previous five seasons, we shared the coordinator's duties on defense and divided up administrative roles and other behind-the-scenes work for the program. After combining much of my effort with Ryan, it called for some quick adjustment, since I now have more responsibilities."
Hodges said that other Ferris coaches have been able to benefit from the program's success and accept new opportunities at schools like Northern Michigan, Davenport and the University of Michigan. A former Bulldog player and the veterans in the defensive coaching staff have responded well to the changes brought about by Brady's departure.
"Dylan Roney stepped up his responsibilities with our defensive line, Tesfa Smith is well acquainted with handling the linebackers, Jinks Arnold works with our cornerbacks and Tony Annese (the nephew of Ferris' head coach) oversees the safeties," Hodges said. "All that experience with our program and the input they can offer has been great so far, we are communicating well."
Ferris State football has ascended to new heights in NCAA Division II over the last several years. Two national publications have ranked the Bulldogs second in the country for 2019, following their appearance last year in the national final, where Ferris fell 49-47 to Valdosta State in an explosive contest. Ferris' football team has a record of 75-15 since Annese and Hodges came to town, with five straight D-II postseason appearances.
"There are have been many times where the team has benefitted from the running ability of our Harlon Hill-winning quarterbacks, like Jason Vander Laan, and more recently, Jayru Campbell, but sometimes, you could say that their talent is a 'good problem to have,'" Hodges said. "I remember that in our first game leading Ferris' program, we faced a National Association of Intercollegiate Athletics (NAIA) team in Saint Francis of Illinois. The defense opened the game and faced a ten-play drive, and then our offense came out and scored quickly on a trick play, followed by a 13-play drive by the Fighting Saints. Big plays for Ferris' offense can mean long games for our unit on the field."
Hodges has formidable experience and affiliation with Tony Annese, having played high school football for him at Montrose's Hill-McCloy High School before coming to Ferris as a player in 1997. After a year as a student assistant for the Bulldogs in 2002, Hodges found his way back to Annese as an assistant coach. Their successes include three Michigan High School Athletic Association titles at Muskegon High School, followed by National Junior Collegiate Athletic Association crowns in 2009 and 2011, at Grand Rapids Community College.
"I could not have predicted this would be how things turned out, from the start of my playing days under Coach Annese as a high school sophomore," Hodges said. ""I got to know the campus as a student, and that familiarity grew when I worked on the moving crew after my playing days. Tony made an offer to join his staff after my first year of coaching at Ferris. It was kind of an irony that the Ferris job came up, as we were succeeding at GRCC."
Hodges returned to Ferris with a toddler son, Cash, and spent several of his early years on the staff juggling responsibilities as a single father.
"Knowing the campus and its people well was a benefit, and I was glad to have that experience," Hodges said. "Being a single father, I left the recruiting trips to our other coaches, which Coach Annese supported entirely. I served as a strength and conditioning coach, and was the program's liaison to university staff, which allowed me to stay close to Cash. I wanted to work as hard as I could to improve my coaching abilities and to help build our program. When Rob Zeitman was associate head coach, he and I would study rulebooks, trying to give ourselves any advantage. It was a great learning experience."
Hodges continues in a supervisory role for the safeties and cornerbacks as defensive coordinator, with a good understanding of what Ferris' program requires of his unit, to contribute to team excellence.
"I try to make my guys see that our attitude is to storm the field, and make our presence and goals the dominant thing when we are out there," Hodges said. "I have coached with Tony for a long time, well aware that he will often roll the dice on trying to continue a drive on fourth down. I feel it is a blessing to be able to play the game, which includes being fully confident that we can stop any opponent. It is a struggle to get fans to focus on Ferris' defensive success since many of them are fascinated by our ability to put up points."
Hodges said the Bulldogs' powder keg offense is a source of frustration for Ferris' opponents each week of the football season, but his defensive unit has to face them in every practice, from the preseason until the team's annual pursuit of a national championship ends.
"Having to go against Tony is a real challenge, because of the motion they have in the offense, and their variety of formations," Hodges said. "It is great preparation for most every team that we could face, and I know that our defense is more successful, because of those scrimmages."
The personal pursuit of excellence goes beyond the practice and playing fields, or the office and film room, as Hodges approaches his third anniversary with his wife, Serah, who also hails from Montrose. Nine-year old Cash is now a big brother to Levi, who is nearly two, and to an infant brother, Ace.
"It is not easy being a father and coach, but it certainly helps define my schedule, and whereabouts," Hodges said. "If I'm not at work, I'm at home and we are all together. Cash knows that his stepmother and I care about him, and Serah is great with all the boys. Levi can be a handful, so I pitch in however I can. I know Serah is sacrificing a lot, because a player may call at any time with a problem, or a need to talk. I feel like my family appreciates what we are doing here, and I know Serah and Cash had a great time traveling to McKinney, Texas, for the national final."
Hodges said the prospect of returning to McKinney this December has been on the minds of Ferris' players and coaches after last year's playoff run ended in dramatic fashion there.
"It seems like the mantra, or mindset of our team is that we have unfinished business," Hodges said. "We are working very hard to bring home a championship, which has long been a goal of our program. Our players only required a little motivation during the worst weather in spring practice. I am proud that they understand what it takes to get better every day so that we might take that final step and become champions."

John Smith is the communications specialist in the News Services and Social Media department of University Advancement and Marketing.

For others featured in the Faces of Ferris series, visit:
https://ferris.edu/HTMLS/news/faces/