Welding Associate Professor/Program Coordinator
by Amy Hughes - April 15, 2014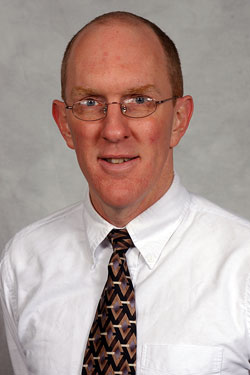 Jeff Hardesty believes, "You are never done learning. It is vitally important to continue as a lifelong learner to keep up with a changing world." That theory is one that Hardesty hopes to help his students understand in his roles as the associate professor of Welding Engineering Technology and program coordinator for the Welding programs.
"I like to help the students see how the pieces fit together," Hardesty said. "Sometimes students can feel as if they are learning random pieces of information and I like to help them figure out how they all work together to solve real-world problems."
Hardesty earned both a Bachelor of Science and Master of Science in Welding Engineering from Ohio State University. He then earned a Master of Science in Career and Technical Education from Ferris. This led him to a career in the auto industry, where he worked with several other Ferris alumni. After sensing rough times ahead for the auto industry, Hardesty decided that it would be a good time to make a career change.

Hardesty appreciated the practical hands-on nature of the University's Welding Engineering Technology program. In 2004, he learned of an opening at Ferris and decided to apply. Hardesty is now in his 10th year of teaching at the University.

"It is very rewarding to see students learn and become successful," Hardesty said. "It is fun to have them come back and tell me they realize how well their Ferris education prepared them for their job and how they can now see the value of what we were talking about."
Currently, Hardesty spends half of his time performing administrative tasks for the program and the other half teaching courses. He was honored with the 2009-10 American Welding Society District 11 Welding Educator Award. He also has 10 U.S. patents.
When he is not working, he enjoys spending time with his family, helping with the American Welding Society student chapter on campus and working on the "Chain Gang" at Ferris football games.
"There are a lot of exciting things going on with the Welding Engineering Technology program right now. We are full and have a waiting list so we are hoping to expand our facilities in the near future," Hardesty said. "Our graduates continue to be in great demand and get fantastic jobs."
Amy Hughes is a News Services student writer in University Advancement and Marketing.
For others featured in the Faces of Ferris series, visit:
https://ferris.edu/HTMLS/news/faces/