Softball Teammates
by Kayla Konway - February 21, 2013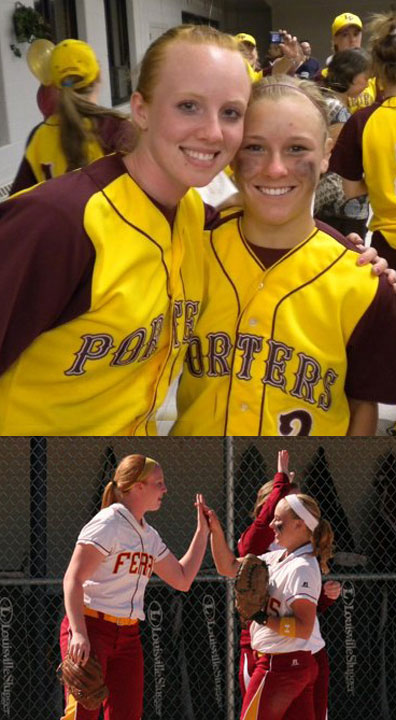 Morgan Kramerich and Dana Bowler have been friends on and off the softball field since third grade.
Kramerich, of Crest Hill, Ill., and Bowler of Lockport, Ill., met in elementary school and tried their hand at cheerleading and basketball before picking up a softball and bat.
In middle school, the two played for the Richard Eagles and on different teams for the Homer Hawks during summer.
"One weekend we were short an outfielder so Morgan came and played for us. That was actually the weekend she got recruited by Ferris," Bowler said.
They were teammates playing for the Lockport High School Porters in 2008 when Kramerich was recruited by the Bulldogs' then-head coach Keri Becker to play for Ferris.
"I liked Ferris the best of all the other colleges I visited," said Kramerich. She encouraged Bowler, who was being recruited by other schools, to visit Ferris and contact Becker.
"After I attended about a month later, Coach Becker offered Morgan and me a chance to play for Ferris," Bowler said. "I wouldn't have been recruited if it wasn't for Morgan.
"Although it would be a huge bonus, I knew that Morgan and I would still be good friends whether we played college ball together or not."
After weighing their options, Kramerich and Bowler enrolled at Ferris and have been roommates ever since. Kramerich is majoring in Elementary Education while Bowler is studying Applied Math. Both are seniors.
"Playing softball in college with Morgan is a lot like high school because we still like to joke around and have fun – we just have a new group of teammates," said Bowler, who pitches for the Bulldogs. "I have confidence in all my teammates, but it's different with Morgan, because we've been through so many games together, good and bad."
Both agree the hardest part of being a student-athlete is creating a balance between being a student and being an athlete.
"The biggest difference playing in college is the amount of traveling you have to do to compete with other teams in the same conference," Kramerich said of the Bulldogs' schedule, which includes Great Lakes Intercollegiate Athletic Conference teams from states like Michigan and Ohio.
The two have played a lot of softball together, but their longstanding friendship is what Bowler said she treasures.
"I loved playing ball with Morgan in high school," Bowler said. "She was and still is always there to help me. Now that we're in college, it's comforting to have a center fielder that I've had behind me for years. She cares, not only as a teammate, but as a great friend."
"I've always liked being on the same team with Dana, because I knew that I had one of the best pitchers in our conference on my team," Kramerich said.
They will hang up their college cleats after the spring softball season, and Kramerich will spend next year student-teaching and seeking a full-time position after she graduates in the spring of 2014.
Bowler will graduate in May from Ferris and continue her education at Lewis University in Romeoville, Ill., to pursue a degree in Nursing.
Kayla Konway is a News Services student writer in University Advancement and Marketing.
For others featured in the Faces of Ferris series, visit:
https://ferris.edu/HTMLS/news/faces/