Ferris Alumnus and Current Detroit Red Wings Assistant Coach
by Sandy Gholston - Oct. 26, 2011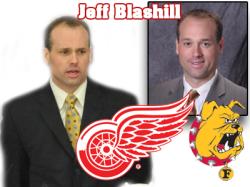 Jeff Blashill personifies more than a few of the core values that serve as cornerstones of Ferris State University's existence.
But, for many, the core value that perhaps is most synonymous with the man and coach that Blashill has become, today, is excellence. Blashill, born in Detroit but raised in Sault Ste. Marie in the Upper Peninsula, initially arrived at Ferris in 1994 ready to prove himself as a goaltender for the Bulldogs and head coach Bob Daniels. He made a good first impression. Blashill capped a strong first season as he earned the team's Rookie of the Year Award at the conclusion of the 1994-95 college hockey campaign.
After he finished his playing career, Blashill made the smooth transition from student-athlete to an assistant coach on Daniels' staff. He served as a volunteer assistant for one season and served two more years as an assistant coach for the Bulldogs. Following the 2000-01 season, Blashill made the decision to join the staff of Miami University as an assistant coach for Enrico Blasi. He served in that capacity until 2008 when he was named head coach and general manager of the Indiana Ice of the United States Hockey League. He served in those roles from 2008 to 2010.
It was at that time that Blashill earned his next big break when he was introduced as the head ice hockey coach at Western Michigan University in his return to the Central Collegiate Hockey Association. The Broncos truly struck gold with the hiring of Blashill. In the former Bulldog's only season as head coach of WMU, he guided the Broncos to their first NCAA Tournament appearance since 1996 and was recognized as national coach of the year by several national bodies, including U.S. College Hockey Online and Inside College Hockey.
By then, Blashill had become a well-respected and household national name in college hockey. He was a rising star. In fact, his name and reputation had grown to the point that it caught the attention of Detroit Red Wings head coach Mike Babcock, who liked Blashill's National Hockey League coaching potential – enough to offer the Ferris graduate a spot on his staff. Blashill realized a lifelong dream when he accepted the position – albeit it with a bit of a heavy heart as he had to leave what he was building at WMU – to join the Red Wings.
Jeff and his wife, Erica, who also is a Ferris graduate, embraced the special opportunity to become an NHL coach. Jeff and Erica have three children, Teddy, Josie and Owen.
"I am extremely excited for the opportunity to pursue a lifelong dream to coach in the NHL with the best organization in sports; the Detroit Red Wings," Blashill said this past summer when accepting the position with the Red Wings.
Excellence recognizes excellence – regardless of the origin of that excellence. Blashill views the Red Wings as an organization that personifies excellence while the Red Wings see Blashill as a man who fits nicely into Babcock's future plans in Detroit.
"He's a young man with a bright future in coaching, a polished presenter," Babcock said to Booth Newspapers following the announcement of the hiring of Blashill and another assistant, Bill Peters. "He'll have an immediate impact on the team."
One thing is for certain: Jeff Blashill has had an immediate and lasting impact pretty much at every stop where he has be given the opportunity to showcase his excellence as a coach.