2011-12 Hockey Co-Captain, All-American
by Sandy Gholston - May 14, 2012

Humbly, co-captain Chad Billins helped le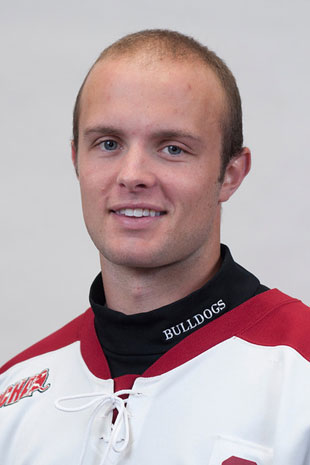 ad Ferris State University's hockey program to unprecedented heights of greatness during the 2011-12 season.
Billins, a senior defenseman from Marysville, Mich., took some time to reflect on how he arrived at Ferris. One of the first words that popped into his head was "opportunity." He still remembers his time playing for the Alpena, Mich. Icediggers as he totaled 25 points on seven goals with 18 assists in 62 games during the 2006-07 season.
Around that time, long-time Ferris head coach Bob Daniels and assistant coach Mark Kaufman caught one of Billins' games. The veteran coaches liked what they say – they liked A LOT of what they saw in Billins. No way could Daniels or Kaufman have known, at that time, that the 5-foot-10, 175-pound defenseman would become one of the cornerstones of a tough-as-nails defense that helped the Bulldogs win the Central Collegiate Hockey Association regular-season championship, claim the school's first-ever NCAA regional championship, advance to the Frozen Four for the first time in school history and compete in the national championship game for the first time.
For Billins, however, it started rather simply. He was grateful for a chance to take a trip to Big Rapids to visit campus. On his visit to Ferris, a trip symbolic of opportunity, the love affair blossomed between Billins and Ferris.
"They gave me an opportunity to come on a visit … and I loved it," said Billins, who recently signed with the Grand Rapids Griffins of the American Hockey League for an amateur tryout – yet another opportunity for a young man accustomed to proving doubters wrong.
The 22-year-old Billins finished his senior season with 29 points on seven goals with 22 assists as he earned American Hockey Coaches Association All-America Second Team honors to cap his Bulldog career in style. That four-year Ferris career includes 149 games played and 67 points on 17 goals with 50 assists.
The individual accolades only told a part of his personal story.
The unprecedented heights the team reached, on college hockey's biggest stage, only told part (albeit a big part) of the Chad Billins story.
Billins was far from the stereotypical college athlete some people might envision. He takes great pride in being a true student-athlete or, in his case, a scholar-athlete. It's not an NCAA line for him – student-athlete has been a way of life at college for Billins. In addition to being a first-team All-CCHA honoree for his play on the ice, the league bestowed another great honor on him to recognize the work Billins does in the classroom. He was named winner of the CCHA's Scholar-Athlete of the Year Award.
"It's a huge honor and I couldn't be happier to represent the university and the CCHA. To get Ferris' name out there is a huge honor and a privilege," said Billins, a member of the 2012 Frozen Four All-Tournament Team. "This is something that could have been given to our whole team with the way that everyone goes to classes and comes to the rink and gets the job done in both places. For the most part, everyone on our team could have won this award with the way they conduct themselves in the classroom."
Learn more about Chad Billins, by visiting here:
http://www.ferrisstatebulldogs.com/sports/mice/2011-12/bios/billins