*Inaugural article about the First Lady's Attic from 2009*
Students at Ferris State University need not wonder anymore how they will afford to buy professional-looking clothing for a job or internship interview - or class presentation. First Lady's Attic will ensure that all Ferris students, male and female, are dressed appropriately for success.
"This is something I had been dreaming about for two years," shares Patsy Eisler, founder of First Lady's Attic. "With the foresight and collaboration of Vice President for Diversity and Inclusion David Pilgrim and Vice President for Student Affairs Dan Burcham, this is now a reality.
"Here at Ferris we are committed to providing opportunities for our students. One way we can do this is to make certain they are appropriately dressed and have the best possible chance of achieving that first great job or internship. Looking the part and feeling confident in an interview or during a class presentation can make a world of difference," adds Eisler.
First Lady's Attic is currently accepting donations of all men's and women's professional clothing. The Attic will gladly take not just "experienced" suits, but shirts, blouses, dress pants and skirts, blazers, dresses, shoes, ties, scarves, belts, jewelry, purses and briefcases.
All donations can be dropped off at either location of Pete's Cleaners in Big Rapids, a community supporter of the First Lady's Attic.
"I am just thrilled to be a part of this and happy that I can contribute to helping students look their best when interviewing," comments Darin Cebulla, owner of Pete's Cleaners. "Just drop off your clothes you'd like to donate at either location on Hemlock or State Street and mention they are for First Lady's Attic, and I'll take care of the rest."
Clothing also can be dropped off on campus at the Ferris Diversity Office located at the Timme Center for Student Services, Room 312.
Your donation to the First Lady's Attic may be tax deductible. Please consult your tax advisor for specifics.
First Lady's Attic Grand Opening on Feb 12, 2009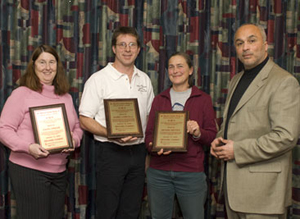 Patsy Eisler, Darin Cebulla, and Dennis Mitten were recognized for their community involvement by David Pilgrim, V.P. for Diversity and Inclusion.