UNIVERSITY THEATER FALL MUSICAL
Video On Demand - STREAMING NOW!
https://www.showtix4u.com/event-details/42918
FREE!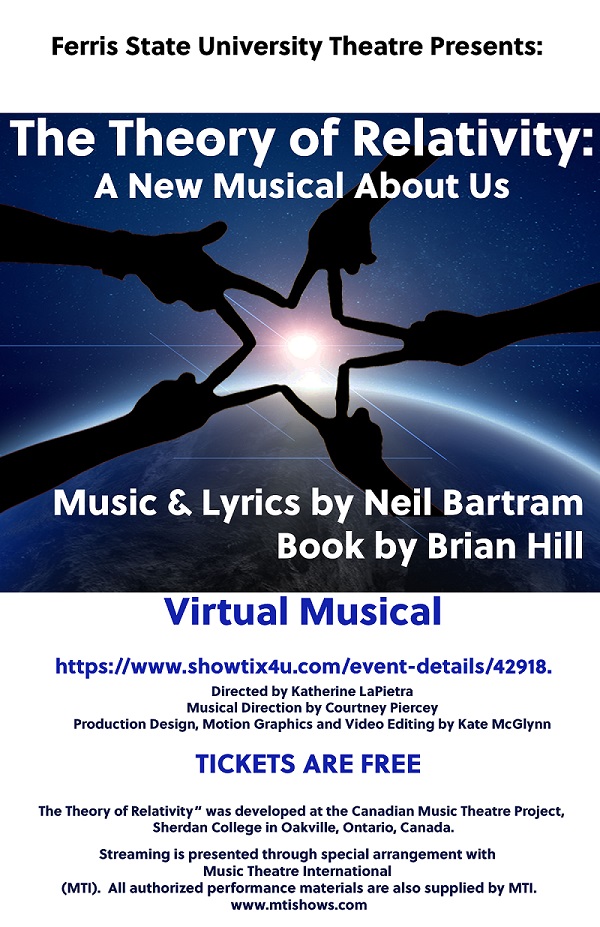 Need help?
Email: [email protected]
The Theory of Relativity:
A New Musical About Us
A Ferris State University Theatre Virtual Production
Directed by Katherine LaPietra
Musical Direction by Courtney Piercey
Production Design, Motion Graphics
and Video Editing by Kate McGlynn
Free and "Live" (virtually) now!
https://www.showtix4u.com/event-details/42918
THE STORYLINE
The Theory of Relativity is a joyous and moving musical about our surprisingly interconnected lives. Created by Neil Bartram and Brian Hill, the show presents a seemingly unrelated collection of songs, scenes and monologues and introduces a diverse array of characters. Whether you're allergic to cats, in love for the first or tenth time, a child of divorce, a germaphobe or simply a unique individual, The Theory of Relativity celebrates the inevitability and the wonder of human connection.
ABOUT THIS VIRTUAL PRODUCTION
This production at Ferris State University was rehearsed and recorded in strict adherence to Covid-19 safety protocols. Rehearsals were held remotely from the cast and crew's individual spaces, and under sanctioned procedures. Sound and video were recorded individually by the cast in their own homes and residence hall rooms. Through use of green screens, creative video editing and post production sound editing, the actors interact and sing together on screen as if they were in the same space and on location.
The Theory of Relativity" was developed at:
The Canadian Music Theatre Project, Sheridan College, Oakville, Ontario, Canada
Streaming is presented through special arrangement with Music Theatre International (MTI).
All authorized performance materials are also supplied by MTI.
---
Previous:
----
https://www.michigan.gov/whitmer/0,9309,7-387-90499-535163--,00.html
In the meantime, check out these virtual arts events from around the world:
Featured Event:

| | |
| --- | --- |
| What | Stay tuned for updates on future events! |
| Where | |
| When | |
| Price: | |




---

Williams Auditorium
Ferris State University
Parking Lot 10

Corner of South State Street
and Cedar Street
901 S. State St.
Big Rapids, MI 49307

---

*Interested in volunteering/working
at Williams? Scroll down!


---

Music Center Information

Scholarships for music


---

Contact us for more information


OR


View the events calendar for more!

Upcoming Events:

| | | |
| --- | --- | --- |
| Event | Date | Time |
| Stay tuned for updates on future events! | | |

You can read details about all events on the Events Calendar



Social Media:

Like us on Facebook to see updates about events and ticket info!

Tag us in your posts and photos on Instagram!

Williams Auditorium
@WilliamsAuditoriumFerrisState

Want to be in a show?

Check out this link:
FSU Theatre Information

VOLUNTEER OPPORTUNITIES:
Williams Auditorium is seeking volunteers for this year's events! Volunteering at the auditorium is a unique experience that can be added to your resume. If you love events, let us know! Volunteers are always welcome.
There will also be part-time, student paid positions open as well! Positions may include, but are not limited to: ushering, crowd control, light, stage and sound technicians, concessions, and marketing/sales! (For paid opportunities, see the official FSU student job postings at: https://ferris.edu/admissions/financialaid/employment/JobPostings.htm Student sign in is required).
Duties:
Duties include stage help for theatre stage set up as well as other theatre support such as providing information on events, taking tickets, handing out programs, and greeting guests. Attendants will work as ushers at Williams Auditorium events and stagehands will operate the sound, lighting, and fly system, load in events, and also perform minor custodial and maintenance duties. Students must be courteous, outgoing, and reliable. Preference is given to students who are year round residents of the area as the Auditorium has events during breaks & holidays, and people with an interest in performing arts and/or stage technology. Training will be provided.
[email protected]
(231) 591-3676
Interested in volunteering? Let us know. Seeking a part-time paid position at Williams? Send us an email at the above address with a resume, cover letter, and a description of what opportunity you are seeking. If you don't see your desired position officially posted, ask about volunteering.

Nick Offerman Homecoming 2017
Information about parking, contact, and our
ticket office can be found on our contact page.


Auditorium Office

[email protected]
(231) 591-3676

Office:
Williams Auditorium
Starr Bldg (STR) 205
Ferris State University

901 S. State St.
Big Rapids, MI 49307
Corner of South State Street
and Cedar Street